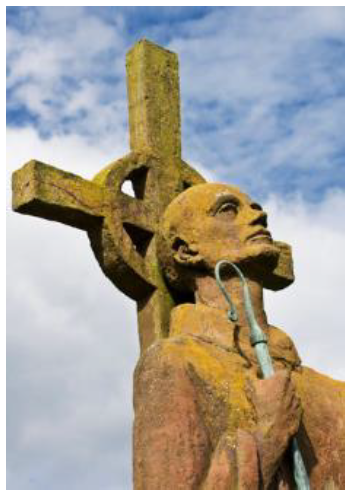 Excerpt from Bede's Ecclesiastical History
They sent [King Oswald] Bishop Aidan, a man of outstanding gentleness, devotion, and moderation; having a zeal of God…On the arrival of the bishop, the king appointed him his episcopal see on the island of Lindisfarne, as he desired. As the tide ebbs and flows, this place is enclosed twice a day by the waves of the sea like an island; and again, twice, when the beach is left dry, it becomes attached to the land…
From this island, then, and the fraternity of these monks, Aidan was sent to instruct the English nation in Christ, having been consecrated a bishop. Among other lessons in holy living, Aidan taught the clergy many lessons about the conduct of their lives but above all he left them a most salutary example of abstinence and self-control; and the best recommendation of his teaching to all was that he taught them no other way of life than that which he himself practised among his fellows. For he neither sought nor loved anything of this world, but delighted in distributing immediately among the poor whom he met whatever was given him by the kings or rich men of the world. He used to travel everywhere on foot, never on horseback, unless compelled by some urgent necessity; so that, as he went, he might turn aside to any anyway he saw, whether rich or poor, and call upon them, if they were unbelievers, to receive the mystery of the faith, or, if they were believers, strengthen them in the faith, urging them by word and deed to practice almsgiving and good works.