We hope this page will uplift our spirits during covid-19
– an antidote to all anxiety of these times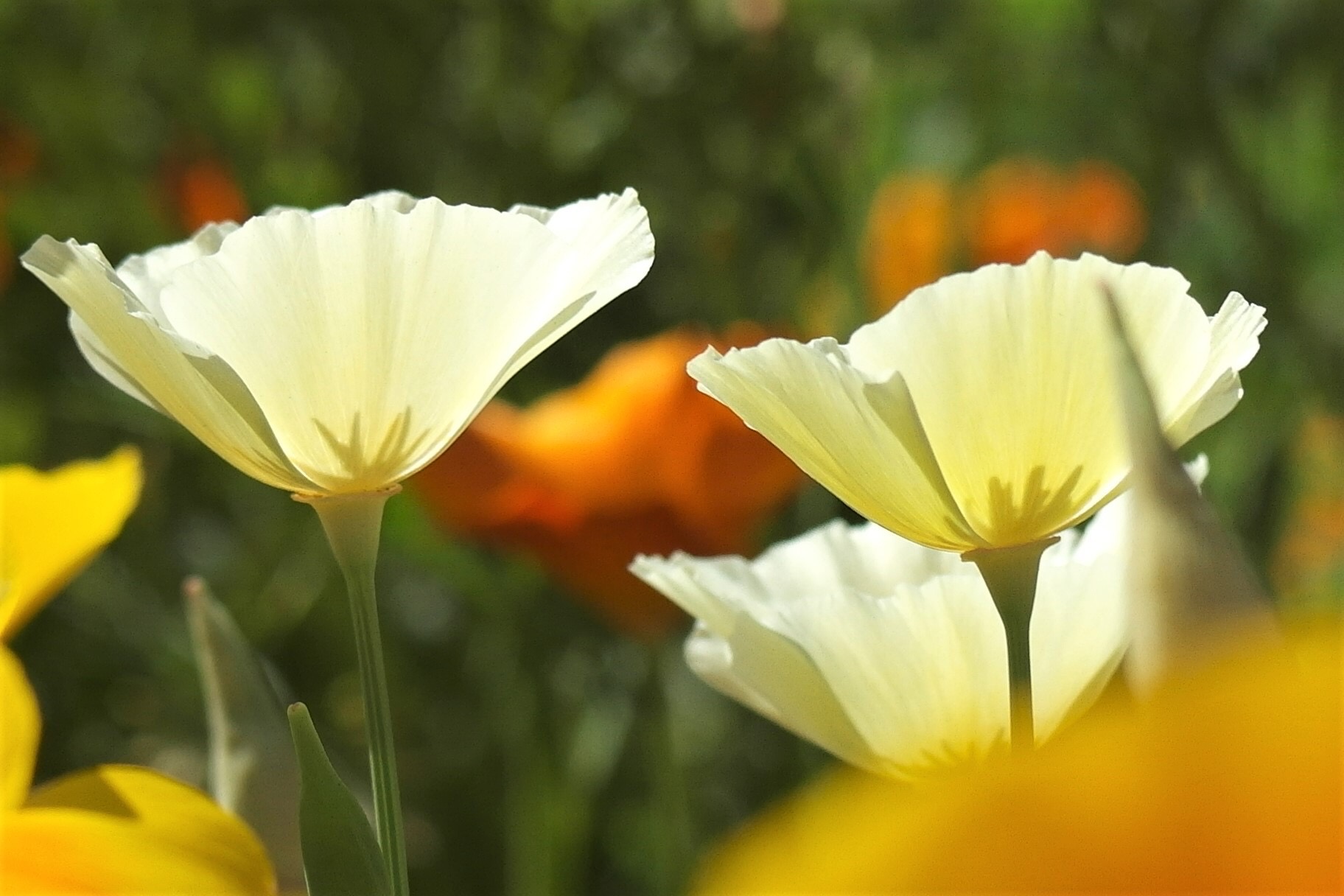 The photographs and the reflections
are by Claire Gardner


shared with her expressed permision:-

"

Please feel free to share any that you feel will be encouaging"
Bare Feet.
So yesterday morning, having just written about having a childlike perspective, I set out on a walk:
a few hundred yards in and there above me are these tiny socks, picked up from the muck of the cow field and left in hope of being reclaimed
I smiled, remembering well the days of socks being discarded from little feet wanting to be free.
And then I have this God-moment….. "Take off your shoes, for you are on holy ground!"…… "What? I'm in a field full of poo!!!!!"
"No, My child, take off the shoes and socks of your heart! Wherever you walk, wherever you tread, becomes holy ground when you bare your heart."
Yes. I always walk inviting God's Presence, His Word, His Eyes to See, but this was different.
It was a revelation of the sanctity of wherever we are when we "walk humbly with our God" with the tender feet of a child.
So I continued my walk with a renewed sense of awe, treading tenderly. All was well and peaceful until I discovered that the world and his wife were out in this river valley,
with dogs and children with fishing nets! Mmmmm…..a challenge….. Could I maintain my inner focus whilst negotiating social distanced space on footpaths??
Could I keep my inner quiet when excited chatter was more noticeable than the lark song?
Could I stay in peace as I mentally rearranged my route to avoid the main paths through the valley? Well, I tried!
I didn't always succeed, but I was determined to bring myself back to that place of abiding, again and again. God was teaching me how I should be desiring to walk my everyday life like this, treating every step, every task, every interaction as a holy place.
Obvious, really, and a call on the Christian life that has been voiced for centuries.
But it was the image of the bare feet of my heart that really spoke to me; uncalloused baby feet that feel every blade of grass, wriggling toes exploring freedom,
toes that delight to be caressed and tickled. Innocence, wonder and joy. And why ever not?
We are children of God; reborn to dance, barefoot, in His Presence, unrestricted by the hard shoes of the world, walking tenderly, with reverence, worshipping in the beauty of Holiness,
bringing the sacred into our world by taking off our socks. We might even learn to drop them altogether……..
Viewpoint……..
I really like getting down low;
to see things from a different perspective, to get a picture from a different angle (although my knees aren't so keen!) and walking through this meadow was such an occasion.
The grasses were already up to thigh height, releasing pollen dust as I walked along through the sea of green, and I had the sudden urge to see it again from the height of a child; to recapture distant memories of a country childhood.
From down here, the grasses are in my face, focused with nearness, a tapestry of textures, whilst the distant tall trees are rendered smaller, less immediately important and the sky, huge in its blueness, infinite.
And as I creaked up to full height again and saw things from the normal perspective, the Lord whispered to me, "Wasn't it better down there?"
"Ehhh?
"When are you going to relearn how to live as a child, My child?
Focusing on the here and now, hour by hour, with Me, seeing the blessings and the challenges of each moment, and being truly present in My Presence?
Letting the tall brooding trees of life
assume their rightful place in My Perspective?
Seeing the heavenly blue of eternity
and referencing the now with its infinity?"
"Ah yes, I see!"
But do I truly live like that? Do any of us?
We try, but the world's mindset of "knowledge", planning ahead, control, speculation, anticipation, often robs our present.
Even in these days of lockdown
when our parameters are helpfully reduced, we are over concerned with filling our blank days (when I've done this, I will go on to do that, that….and that!) and scanning the horizon for the freedoms of normality (Oh, won't it be luvverly!) BUT we still find it hard to live in the NOW.
There are things that help us;
pain is one of them, and joy, relief, surprise, and moments of wonder and love.
These things, often briefly, focus our attention intensely, yet we so often find it hard to sustain our gaze upon the Lover of our souls for any length of time, which should, one thinks, be easy.
In fact, we find it hard to do anything with the fierce attention of a child.
Yet, Jesus said that being childlike is the essence of the Kingdom.
Like Nicodemus, we have grappled with the mysteries of new birth…..and come through, praise God!
But being childlike in our faith and walk is a matter of deliberate intention and training; a deliberate getting down on our knees to see as a child, to feel, taste, hear and touch as a child, and to let the tall trees get out of focus, as we walk Hand in Hand with our Father, towards our Heavenly Home.
Which way……?
The Word of the Lord came to Jeremiah,
"You will seek Me and find Me
when you seek me with all your heart….."
And off we go;
searching the Scriptures,
reading teachings old and new,
seeking wise counsel,
attending meetings and conferences,
hearing sermons, going on retreats………
We do it all;  seeking, seeking, seeking
the One Whom our heart knows it loves,
filling our understanding as much as we can,
gathering treasures of wisdom, yearning always for more, more, more.
Which way is the best? Am I on the right path?
Do I need to explore this way?
Is this really a path? Where's the map?
Where are You taking me?
In fact, where are You, God?
And God says, "STOP!!!!!!"
"Be still and know. Be still and find Me, right there within you. NOW.
I AM……… there.
I freely gave you My Holy Spirit
to dwell in the temple of your heart;
do you so readily forget?
Will you just rest awhile with Me?
There you will find all that your heart yearns for,
if only you would stop and agree, in faith,
that you don't need the frantic search.
I have done it:
Paid the Price, Given the Gift,
Called you to Myself through Jesus,
Made My Home in you, just as My Son Promised.
Rejoice and be glad, for I couldn't be closer!
Give yourself to My Presence
and then TOGETHER we will open up My Word, and explore the Paths I have for you.
I am not at the end of the path,
I AM here with you as you go along.
Walk the walk of Life that I have prepared for you,
just for you, no other, with acceptance and joy;
no regrets, no comparing, no vain ambitions,
just Me in you and you in Me. Together.
Remember, I desire to be found, in fact, I never leave you.
Lay down your strivings and REST. It's so simple. You are Mine."
Amen Lord, I hear You, and agree.
Your Grace is beyond all words……….
What's Coming……….?
These allium heads, bursting in my garden just now,
are fascinating
tightly packed clusters of arrow shaped buds,
all pointing upwards, as if straining to reach the sky
in the act of escaping their outer casing.
Yet, within a few days, if we get enough warmth,
they will be transformed;
the buds will relax outwards and gradually open up,
one by one,
to form perfect spheres of delicate purple stars,
like a coloured sparklers,
rising amongst the surrounding plants
They are not the variety that make tightly packed globes
that look like solid purple balls.
No, these are much larger heads, full of air and ligh,
and intricately wrought detail,
and the bees love them.
But, for now, they present these oddly intriguing rockets
that tease us with their potential
as they wait for the conditions to be right.
And I look upon them and see the Handiwork of God,
perfect in its design, its precision of timing,
its eventual bringing forth of something spectacular
that not only feeds the bees but gives us pleasure too.
And I look upon them and see God's People just now;
clustered together in spirit, although not in person,
all reaching up to the Heavens in prayer,
calling forth the time
when they will be opened up to display
the wondrous Goodness of God.
And, as in the natural, it is not a "suddenly" thing,
but a gradual opening up of lighted stars,
one by one,
that will cover our world with the Glory,
that will attract the people, like bees, to feed on Truth
that will create a thing of Spirit-filled Lightness
that will be long lasting
and eventually produce much fertile seed.
Are we content, then, to be in this budded phase
of intense upward gazing?
Are we content, then, to be gathering warmth
and strength from the Son?
Are we content, then, to be regarded as a little strange
in our hidden, budded form,
little understood, maligned, even?
Are we content, then to wait for the touch
that awakens our individual flower?
For surely it will come;
indeed stirrings are beginning to shift the atmosphere
as the Word of the Lord moves upon the earth.
Yes, we will wait,
for His Season is never late, never early.
Neither will we give up,
for His Word endures throughout eternity.
It's Coming!!!!
Useless……?
Now, I have a soft spot for an old tractor:
I spent all my childhood holidays on a traditional farm,
ran wild with the farmer's children,
built houses out of bales, milked a cow by hand,
collected eggs (very free range)
and, yes, rode on tractors……
the ones before cabs and health and safety,
but not quite as old as this little grey Fergie!
Sitting on the big rear mud guard,
supported by the metal toolbox,
the slow bumpy ride was a joy that was
integral to the thrills of harvest time.
Even, as a teenager, I was allowed to have a go at driving!
So, to see this beauty in such a state of neglect
almost brought a tear to the eye,
until I realised that in spite of it's apparent dereliction,
it was still being used, without going anywhere;
the power from its engine was being harnessed
to run a log-splitter (that blue thing behind)
and the barn was being filled with neatly chopped wood.
So, not so useless after all!
Another picture then, for these times
when so many people are feeling "put out to grass",
neglected, unused, unseen,
appearance compromised, functionality questionable.
But we all (believers or not) have a power
still to be harnessed;
and that is love.
We have seen the sacrificial serving of the obvious heroes
but the people behind closed doors
sewing scrubs, headbands and bags,
the people putting together parcels of encouragement,
the people answering the calls of the distressed,
the people giving their money to support the needy,
the people organising online encouragement and fun;
these and many others are proving
that uselessness is a choice that we don't have to make.
But, for us, God's People,
we have the ultimate hidden use that is never too old:
Prayer.
What did Jesus say?
"When you pray, go into your room, close the door
and pray to your Father……."
"And this then is how you should pray:
   'Our Father in Heaven,
    hallowed be Your Name.
   Your Kingdom come,
   Your Will be done on earth as it is in Heaven……' "
If we just pray this and nothing else, with faith,
we are releasing such Power upon the world;
Power to cleanse the spiritual atmosphere,
Power to slice through the enemy's schemes,
Power to bring Heaven to earth.
If it seems so simple, so "not enough", so old fashioned,
it is because we have so small an understanding of God.
Try this version:
"Our Father, dwelling in the Heavenly Realms,
may the Glory of Your Name
be the centre on which our lives turn.
Manifest Your Kingdom Realm,
and cause Your every Purpose to be fulfilled on earth,
just as it is fulfilled in Heaven……."
BIG, isn't it?
Nothing useless there!
We might be in hiding, but we're not hidden in the Spirit.
Praise God!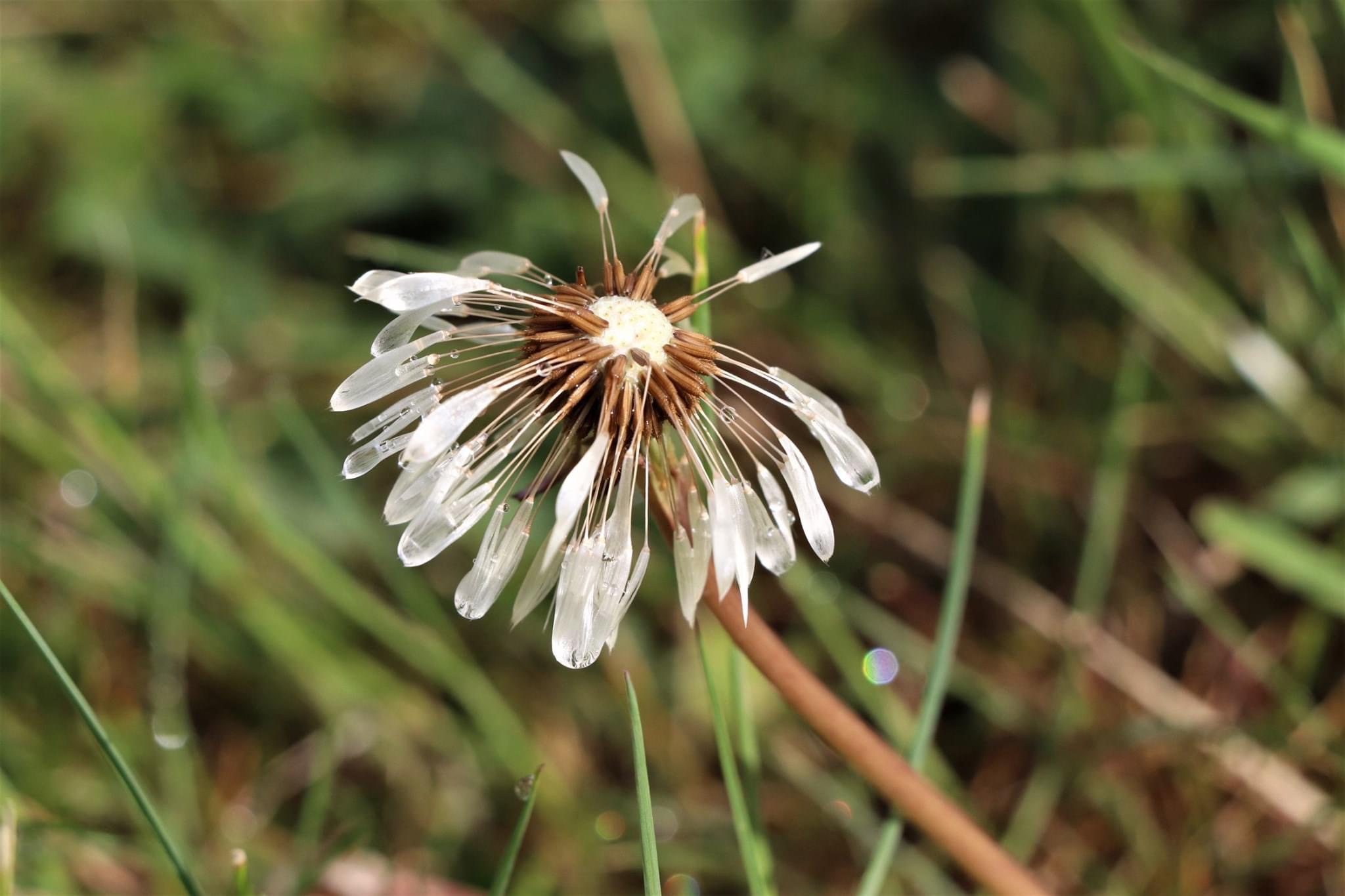 Bedraggled………..
I don't recall seeing rain soaked dandelion clocks before!
(I probably have, but not really looked.)
Gone is the fluffy halo of mini parachutes
ready to catch the wind and be off to pastures new.
Gone is that sense of ethereal lightness.
Instead there is this bedraggled, forlorn form
that bears little resemblance to its dry self,
yet still weirdly beautiful.
There is a feeling that it is actually the weight of the water
that is going to detach the seed from the stem,
taking it to the ground, right at the foot of the plant.

There it stands, a picture for those many people
for whom this season is one of sweat and tears,
for whom life in its fullness has been cruelly changed
by a torrent of stress and grief.
Overworked, under-protected health staff,
overlooked carers, frightened shop workers,
parents of young children suddenly cooped up at home,
manufacturers of urgently needed goods;
people living beyond their usual capacity,
forgetting what normal life looks like,
in a never ending run of exhaustion and anxiety.
Relatives of the thousands of dead and dying,
shedding storms of grieving tears,
families split apart, parents from far-off young people,
and grandparents from grandchildren,
shedding the tears of regret for time lost,
thousands whose jobs, or prospects of jobs,
have vanished overnight, weeping in the wilderness,
victims of domestic abuse crying silently in corners,
people sick with other diseases, frightened that
their treatment may not come quickly enough,
weeping with helpless resignation.
Yes, there is much sorrow and stress in the land
that only the touch of God can assuage.
God's People are right in there, alongside,
sharing in the suffering, going the extra mile,
speaking words of Love and Strength to the bedraggled.
A privilege to be the Lord's earthly hands and mouths
as they guide each seed to the ground,
as they lift up the faint-hearted,
as they comfort the broken.
But the need is greater than the available numbers
of Workers in the Field,
and so many of the rest of us are stuck in our homes,
doing what little we can, but only from a distance;
praying, praying, praying
Praise God, that HE isn't confined by anything!
          HE is the One Who wipes every tear
          and comforts those who mourn.
          HE is the One Who gives strength to the weary.
          HE is the One Who takes each sacrificial seed
          and brings forth the Good Harvest.
Bedraggled the world might be, just now,
but the Glory is coming……..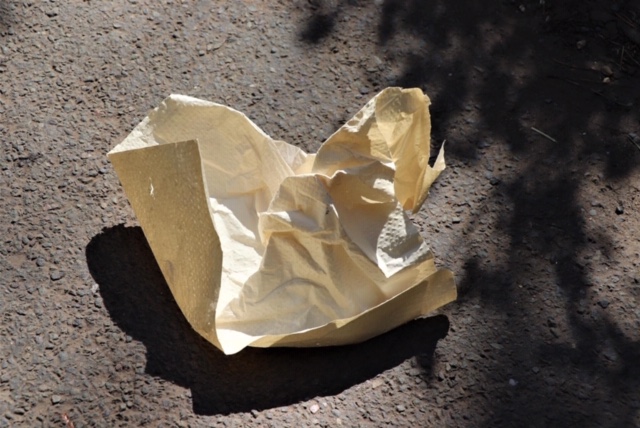 Carelessness
I was walking down a nearby lane
when I came across this piece of litter.
I have to say that I found it strangely beautiful;
its shapes and shadows were almost sculptural,
its colour a warm cream in the morning sun,
its texture contrasting with the road surface.
So, yes, it got photographed, and I walked on.
But, the fact remains that it shouldn't have been there;
however fleetingly attractive,
it was still litter,
dropped, I presume, from a produce lorry
belonging to a nearby farm shop.
In its proper place it had a function;
to wrap, to protect, to cushion, or to separate
fruit or vegetables in transit.
But on the road…….?
No good!
It wasn't necessarily dropped on purpose
but it could well have been the result of carelessness.
So what could the Lord be saying here?
I had no idea at the time, but now,
as our hidden season stretches on…and on,
I sense His gentle reminder not to get careless.
For what is carelessness
but the opposite of preparedness?
As time goes on, it's easy to get lax;
good, really good, things can slip away from our grasp
because our focus has loosened
or we have got distracted by external things.
But the call on this season is the call to alertness,
to being prepared, to the building of strong foundations,
to knowing and being the Voice in the wilderness.
What use is some beautiful prayer strategy,
if we have become lazy?
What use the attractive new prayer journal,
if it lies hardly used, our deepening inner journey
neglected?
What use the watching of inspiring videos
if afterwards we remain unchanged?
Yes, this season brings with it an intensity of growth
that is unfamiliar to most of us,
a singleness of purpose that is unaccustomed.
We all can say that we have frittered time,
taken our eyes off the ball, got careless now and again!
BUT,
not only is this time vital,
but it is a gift;
God's Gift.
Would we want to drop it?
Surely not!

But because of our humanity we do.
On our knees, with heartfelt thanks,
we receive the gift of NO CONDEMNATION,
and we rise to take up again the call to care-full-ness,
where the Care in God's Heart becomes ours too…..
and we discover joy.
Breath……
It was a lovely day yesterday, but there was quite a breeze.
I loved it, as the air was fresh
and although it made flower photography tricky,
there was a sense of movement and life.
I stood under this beech tree for quite a while,
watching the new leaves being caught by the wind.
They are soft, just now, newly born,
so they made very little sound;
just a murmuring with each gust;
like a breath.
And I thought about the Breath of God;
Loving, Life-giving, reviving,
but, like the wind, unseen.
From the very beginning,
when God breathed into Adam the breath of life,
to the moment when Jesus breathed the Holy Spirit
upon His Disciples,
the Breath of God is a Powerful thing.
It is the means of our life and our Life in Him.
It is a gift.
A gift that this virus seeks to steal,
robbing many people of their capacity to breathe,
with frightening consequences.
What should be a gift becomes a struggle.
I once met a woman, an asthmatic,
who told of being in a situation of great shock.
Locked up, alone, she was struggling to breathe.
She cried out to God,
and as she did so, an image of Jesus on the Cross
appeared on the plain wall in front of her.
She became aware that He, too, was battling to breathe.
And as she watched, her own breathing eased
and she found herself taken up in worship.
What a testimony!
But it goes to show that there was absolutely nothing
that Our Lord did not take upon Himself
as He laid down His Breath for us.
Yes, His Breath, our breath, is His Gift.
And so, in the battle we can still sing,
"It's Your breath in our lungs,
so we pour out our praise
to You only, Lord!"
And praise takes the gift of breath
and returns it to the Giver of Life,
that He may be Glorified in all the earth.
"Let everything that has breath,
  praise the Lord!"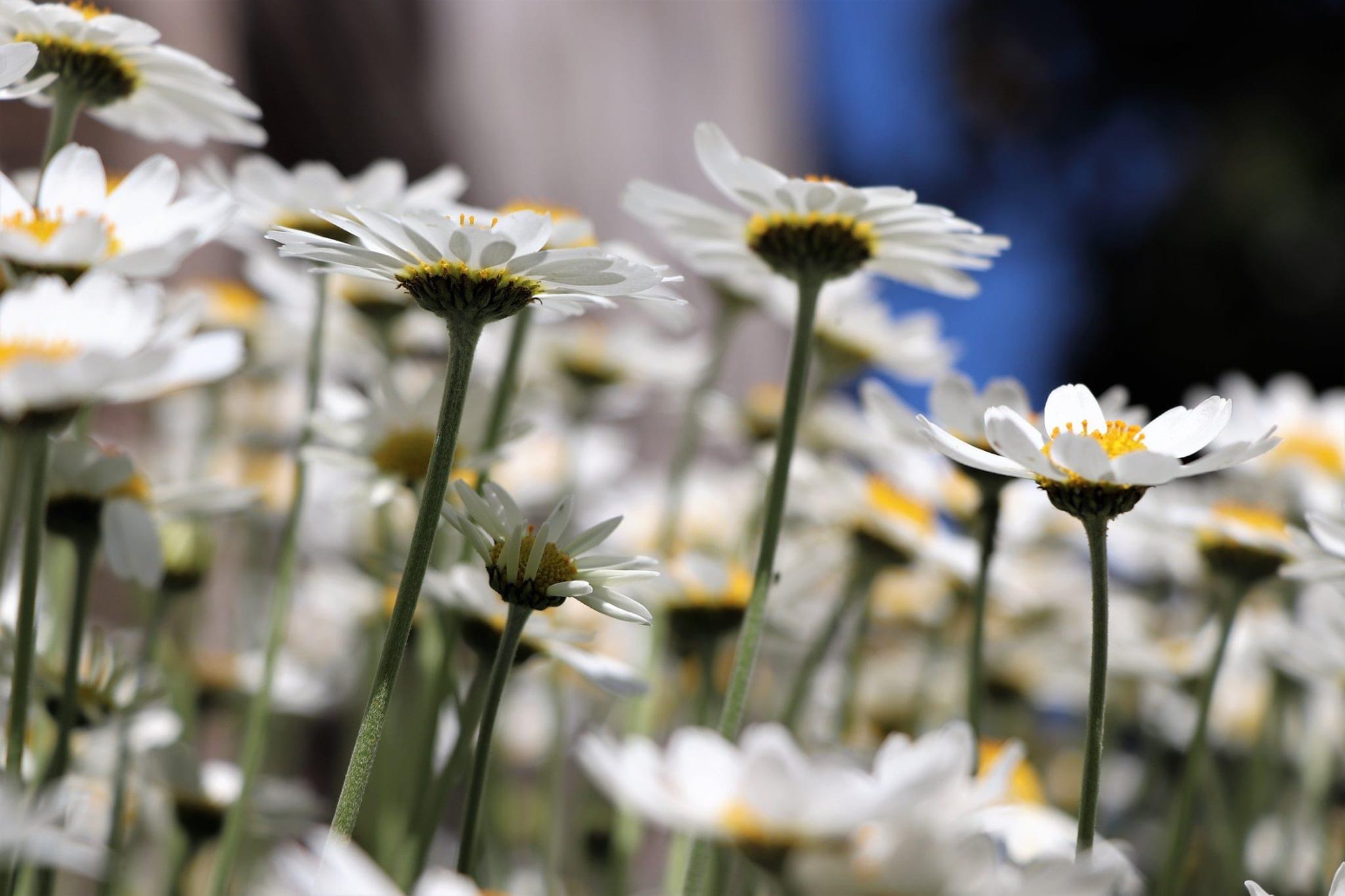 Today………
Unlike the little daisies that grow in the grass
that close up their petals every night
and open them every morning,
these camomile daisies turn their petals backwards
as night falls, leaving their golden centres exposed.
Then as the sun rises, they raise their petals
towards the warmth and light.
I love it that they move;
they are not fixed, but responsive.
I have a huge clump of them in my garden,
absolutely covered in flowers.
Indeed, in the sunshine, their whiteness is almost blinding,
so tightly packed are their blooms,
and they look like a radiant choir, with heads raised,
praising their Maker.
From above, they look like a white carpet,
but from below, you can see the different heights,
the different shapes and stages of development,
all joining together, each being part of the song.
The picture, deliberately, only focuses on one or two
because to God, each one in the crowd is seen.
I took the photo yesterday
but I woke up this morning with it in my mind
and with it the challenge to greet each new day
with raised hands and an open heart,
full of thanksgiving.
"This is the day that the Lord has made;
we will rejoice and be glad in it!"
In this season, when sickness and death stalk the land,
it is a privilege to wake up ALIVE,
however challenging our circumstances are.
And we are doubly blessed by having not only life,
but Life, Eternal Life,
gifted to us that first Easter.
We grasp it with faith and thanksgiving,
but how often do we take it for granted?
How often do we crawl into the day without our
"Deo Gracias!"?
How easy it is to meet the day on our own terms;
referencing all that has to be done,
giving more than a nod to preoccupations,
anxieties, plans and expectations.
BUT, nothing changes the fact that
the Son has Risen!
He stands in Victorious Glory,
deserving of our first sleepy thoughts, our first words,
and the raising of our hands in praise and worship.
For many of us sleepyheads it is a challenge,
definitely a sacrifice of praise,
But TODAY is worth starting well…..
every day.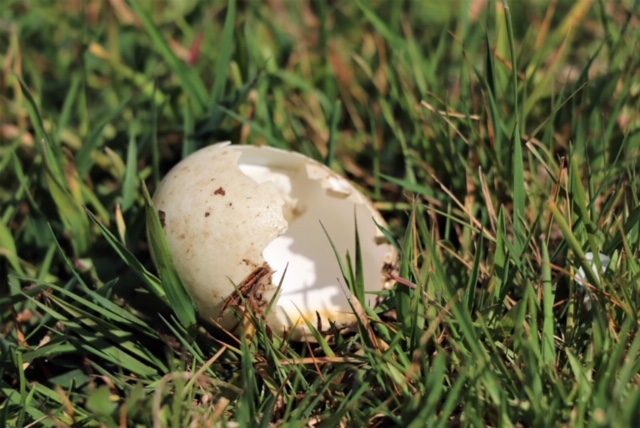 Redundant……..
I found this quite large empty egg,
discarded from the nest by a tidy mama bird,
its purpose over,
just a waste of space.
Out of it had come her hungry youngster,
broken free from its protecting confinement
with a zest for life.
But the shell lies abandoned,
redundant.
And, it being Easter time, I thought of the empty tomb.
It had seen huge activity;
Our Lord had risen, spectacularly,
angels had come and gone,
Disciples had visited, seen, encountered and wondered,
officials had come to survey the damage,
guards had been interrogated and paid off.
And then?
Well, we do not know.
Did it just lie abandoned, like this eggshell,
its purpose fulfilled?
We can be pretty sure that the authorities forbade visitors,
for the last thing they wanted was a place of pilgrimage.
Yet, we know that, much later,
several tomb sites became revered
as Christ's temporary resting place,
and places of pilgrimage they have indeed become.
But in those empty days just after the Resurrection,
what a place it must have been!
A place retaining the frissons of Power,
a place holding unspeakable mysteries,
a place holding something of the departed Presence,
a place that could not contain Resurrection Life;
(it could not contain it any more than a shell can
the life-hungry fledgling!)
People visiting the Garden Tomb site today
bear witness to that sense of His Presence,
so maybe the mystery endures.
But empty it is;
not needed by the Lord of Life Who reigns in Heaven
and Who resides in the heart of every believer.
NOTHING could contain Him
and His boundless energy of New Life.
The question is, do WE try to contain Him?
Do we, in this season of being contained ourselves
need to throw out some redundant eggshells?
Eggshells of custom and tradition,
of habit and preference,
of stifling unbelief and misunderstanding?
Can we let the Power of His Word and His Presence
break our redundant moulds?
Just a thought!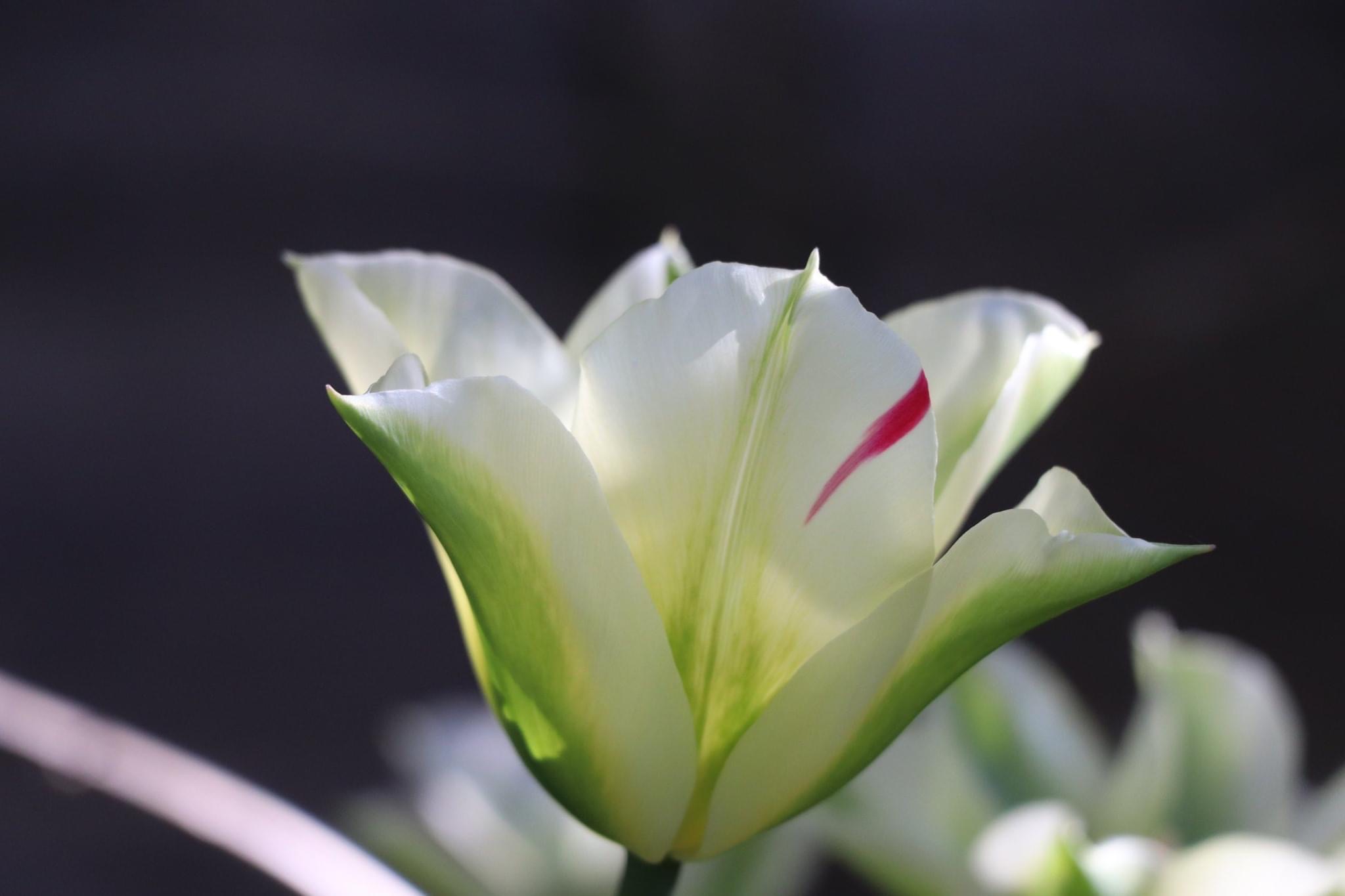 Marked………
This beautiful tulip with its crimson splash
stands out amongst a clump of unmarked ones.
We've never had one like it before this year;
It is though the Lord allowed it to be so,
so that we could SEE.
So that we could see it
speaking of Innocence and Blood,
speaking of a Battle won,
of a Shout of Triumph,
of Light and Life,
of Resurrection,
of JESUS.
We declare today, as we should every day,
that Jesus is alive;
that death could not hold Him,
that the Power of Life is greater,
that the Price was paid, in full,
and Redeemed unto Glory!
Hallelujah!
And one of the beautiful things,
was that Jesus' risen Body
bore the marks of His Suffering.
When He arose,
His skin was not supernaturally, invisibly healed over;
the scars were still there, and raw,
bearing witness of the Cost,
providing proof for those who needed it
that it was indeed He.
His resurrection Body may have appeared altered,
but the marks of nails and spear remained.
It speaks of the whole Gospel;
of the fusing of the Cost and the Victory,
which, in turn, comforts our journey along the Way.
It shows us that suffering and Victory,
humanity and Righteousness,
frailty and Power
can co-exist within us
as we carry His Presence.
We too are marked unto Salvation,
through Faith, Blood, Word and Spirit.
It might not show on the outside,
but the Marks are there, within,
grafted into our spirits.
So, we rejoice, this day,
and sing and shout and dance,
and join in heaven's Song:
"Worthy is the Lamb Who was slain,
to receive Power and Riches,
and Wisdom and Strength,
and Honour and Glory and Praise!"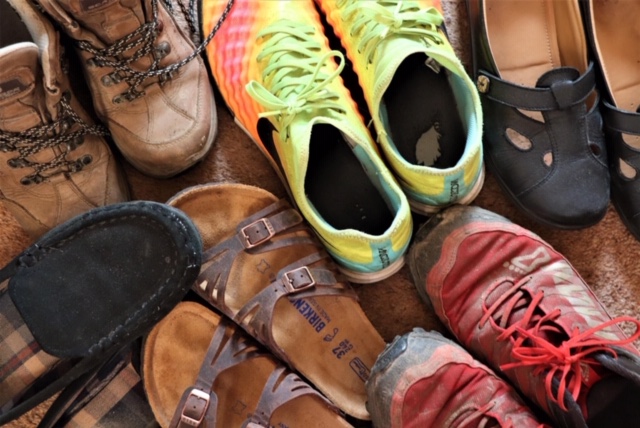 Shoes………
These are just a few of the pairs of shoes in our hall:
and are suitable for many occasions,
but they all serve the same purpose;
to clothe our feet, to keep them warm,
to protect them from harm, whatever we ask of them.
Sometimes they are purely functional,
sometimes they are more for show,
a thing of vanity or pride,
and, sometimes, in summer, we do without them at all;
but we all have them, probably a few too many!
Paul speaks about being fitted with the shoes of readiness
that come with knowing the Gospel of Peace.
Shoes that can take us to any and every occasion
where the Word can be spoken
where the Love can be demonstrated.
Shoes of the Gospel of Peace…..
Peace and shoes does seem a curious juxtaposition,
for most of our shoes get a hammering,
however pristine they are when they come out of the box!
But a comfortable shoe is a well-worn familiar shoe,
ready to be worn without distraction.
Are our feet at peace?
I believe it goes deeper than the shoes:
Today, we remember when Jesus startled His Disciples
by washing their feet.
Just imagine, for a moment,
the extraordinary privilege of having one's feet washed,
cleansed, dried and Loved by the King of kings.
A humble, intimate cleansing that takes humility to receive.
The Disciples struggled to understand at the time,
but later they must have cherished that memory;
such an upside-down gesture,
a simple servant act that fitted them to serve the world,
the touch of Love that brought them Peace.
Peace that they would need when the church was born
and their sandals carried them far and wide, into the world.
And, in these days, when we are pretty much
only leaving the house on foot, we have much in common!
We may be able to have a "distanced" chat
with a neighbour we hardly ever see,
we may be prayer walking our streets, as we "exercise",
we may be delivering supplies or encouragement,
we may be walking alone with the Lord,
snatching time away from the house that is suddenly full.
Even in our restrictions,
our feet are taking us places with Him.
The shoes provide the readiness,
the Peace resides inside;
let's take it places!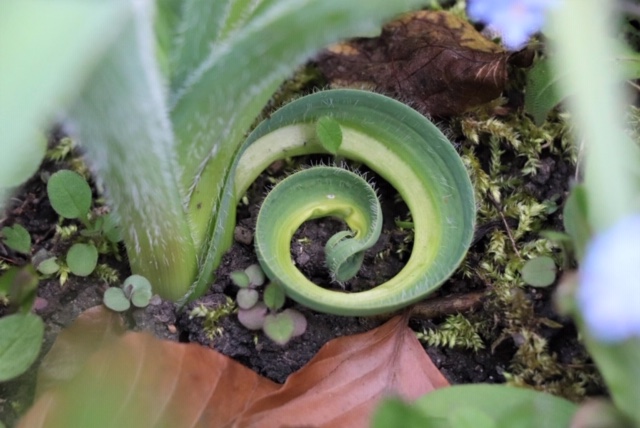 Misshapen………..
Walking round my garden, enjoying all the spring flowers,
my eye was caught by this misshapen leaf.
It is a leaf of a late spring bulb with a long Latin name,
and a beautiful flower head of hanging dark red blooms,
and I love them and look forward to their coming.
But, right now, I am stopped in my tracks
by this unnatural growth;
it is weird, beautiful and fascinating, all at once.
Briefly, the question marks arose in my mind;
"Why? What? How?"
Then I remembered that it is a bulb,
and bulbs get, wait for it…..viruses!!!
The giveaway is not only the contorted shape,
but the variegated stripe.
It will still bloom and, intriguingly,
those flowers may be more exotic than usual
(tulips with viruses are often highly prized)
so we will wait and see!
But, right now, I am stopped in my tracks;
a virus, causing the misshaping of all that is normal….
well, we're discovering all about that!!
How extraordinary that a microscopic organism
can bring such change into our world,
disturbing normal growth,
seemingly locking us into a spiral of sickness and fear.
Yes, it is weird.
All of us have had our lives changed,
some catastrophically, some just mildly inconvenienced,
but none of us are carrying on as we were before.
However, there is beauty in it;
people are discovering creative ways to live,
they are learning how to have 'time',
they are reaching out to others,
they are learning how to be grateful for health and life,
they are asking important questions,
they are learning how to do 'family' at very close quarters
and at a distance.
Yes, there is beauty, sowing seeds of a better society.
It is also fascinating;
I'm sure the sociologists are having a field day,
analysing all these new behaviours,
and in decades to come, historians will study the year
that changed world priorities,
politics becoming secondary in the face of a common foe,
nations helping nations in the search for solutions.
But what does God say?
He  says  "Wait".
You do not see yet, but wait for the flowers to come;
flowers of Salvations, of Prodigals, of Testimonies,
springing up all over the world.
It may be a misshapen season,
but the desert will bloom with My Beauty."

So we say with David,
"I remain confident of this:
I will see the Goodness of the Lord in the land of the living.
Wait for the Lord;
be strong and take heart….and wait for the Lord."

Amen Lord, we wait, calling forth the blooming!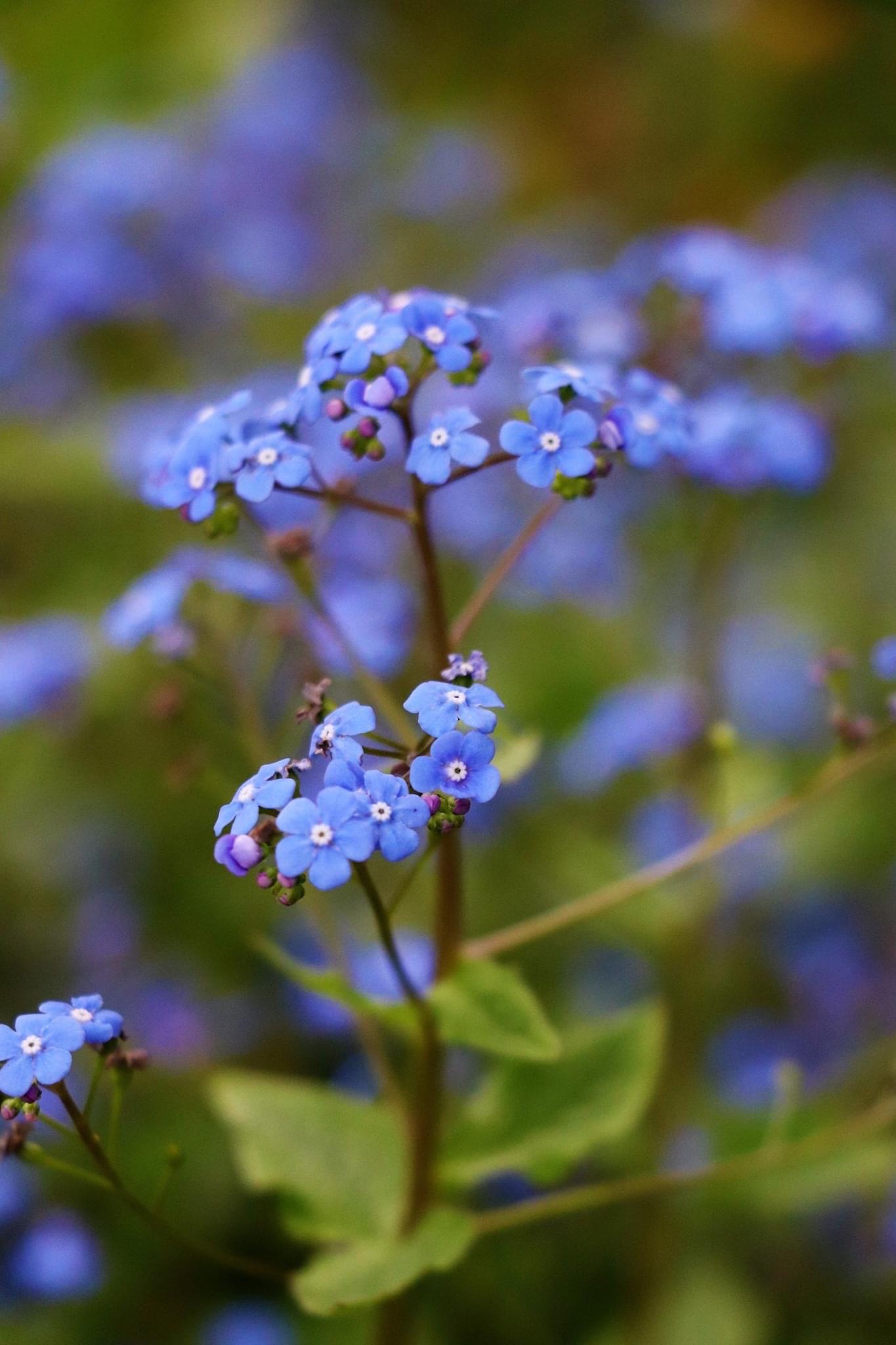 Tiny…..?
One day, during His time in Jerusalem,
Jesus and His Disciples were in the Temple courts,
near where the faithful placed their offerings.
Jesus called their attention to a poor widow,
whose meagre offering was, in fact, huge;
for she gave everything she had to live on.
He knew the real value of her gift,
regardless of how it might seem to the human eyes
of the self righteous rich.
Most of us give out of our plenty,
in terms of money, skills, time and resources.
We are rich, compared to so many on this earth,
yet in giving we cannot outdo our Lord Jesus,
Who gave EVERYTHING,
that we might have Life.
We are called to give everything in return,
laying down our lives for the Kingdom,
but I suspect most of us fall shockingly short
of the kind of risky giving displayed
by the poor widow in the Temple.
What are we risking?
This haze of blue,
formed upon hundreds of tiny blue flowers,
brought to mind the thousands of gowned medics
fighting the fight in our hospitals right now.
They are giving everything,
sacrificing family time, leisure, food and sleep,
to care for the acutely sick.
Each blue clad figure focused in the task of saving lives
at the risk of losing their own.
We can probably say that most do not know the Lord,
but, we know that Jesus sees THEM,
each tiny individual flower,
and He approves……… and Loves them.
He would say to us,
"Do you see? THAT is giving!"
So, what can we, the unskilled, do?
We can pray.
We can pray in a way we never have before;
the kind of praying that sacrifices our time and energy.
We may not be a "key worker"
but each of us who knows the indwelling of our Saviour
can add our widow's mite to the great treasury of prayer
that is encompassing the world.
Can we take the "risk" of appearing to be not "doing" much
in order to be in the Throne Room?
It is our privilege, the One Thing we can do.
Our tiny voice is of such significance and worth
for it is not our own but the Voice of the Spirit,
releasing the Purposes of Heaven upon the earth.
Come on, tiny ones,
risk it!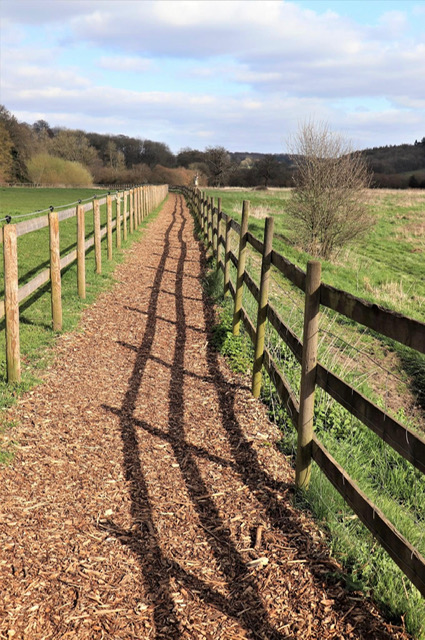 Focused………
Was it just that the disciples vividly remembered
the events leading up to Easter in such great detail,
or did our Lord pack an extraordinary amount of teaching
and action into those last few days?
Either way, as we read the Gospel accounts,
we are left with such a sense of streamlined purpose;
gone is the itinerant lifestyle,
the casual meetings, the spontaneous crowds,
the suppers with friends and sinners,
the nights in prayer on the mountain.
Now, Jesus is constrained by the walls of Jerusalem,
walking the inevitable Narrow Way towards the Cross.
We sense a determination to impart as much as possible
to His disciples, while He still had time.
We sense His sad anger at the religious authorities.
We sense His desire to Light the Way
for as many people as He could, while He could.
He was focused;
hemmed in by the crowded streets of the Holy City,
hemmed in by the scrutiny of the Temple,
hemmed in by Love,
hemmed in by the unstoppable progress of time,
ticking relentlessly……….
He knew His Hour had come.
He was focused,
for He knew the Prize.
And, right now, we are called to be focused.
Our lives are hemmed in, constrained by necessity
in this battle against a virus.
It will last a lot longer than a week,
but our place of constraint is our familiar home
and we have many ways of sweetening our sojourn.
But, we are called to be focused, for the long haul.
At first, it might have felt a grand thing
to be interceding for our land,
to be leaning into the Word of God
for our weapons of Mighty Battle,
to be applying the Banner of Blood over our loved ones,
to be declaring the coming Victory in faith.
Yes, but we are called to be focused
for as long as it takes;
hour by hour, day by day, week by week.
Just as our key workers are laying down their lives,
for as long as it takes,
we are called to stand in the gap
until this virus bows the knee.
It is our calling. It is our privilege.
Jesus set His Face like flint.
So should we.
And we will feel the strength of the Sun on our backs
and we will see God,
not man, get the Glory!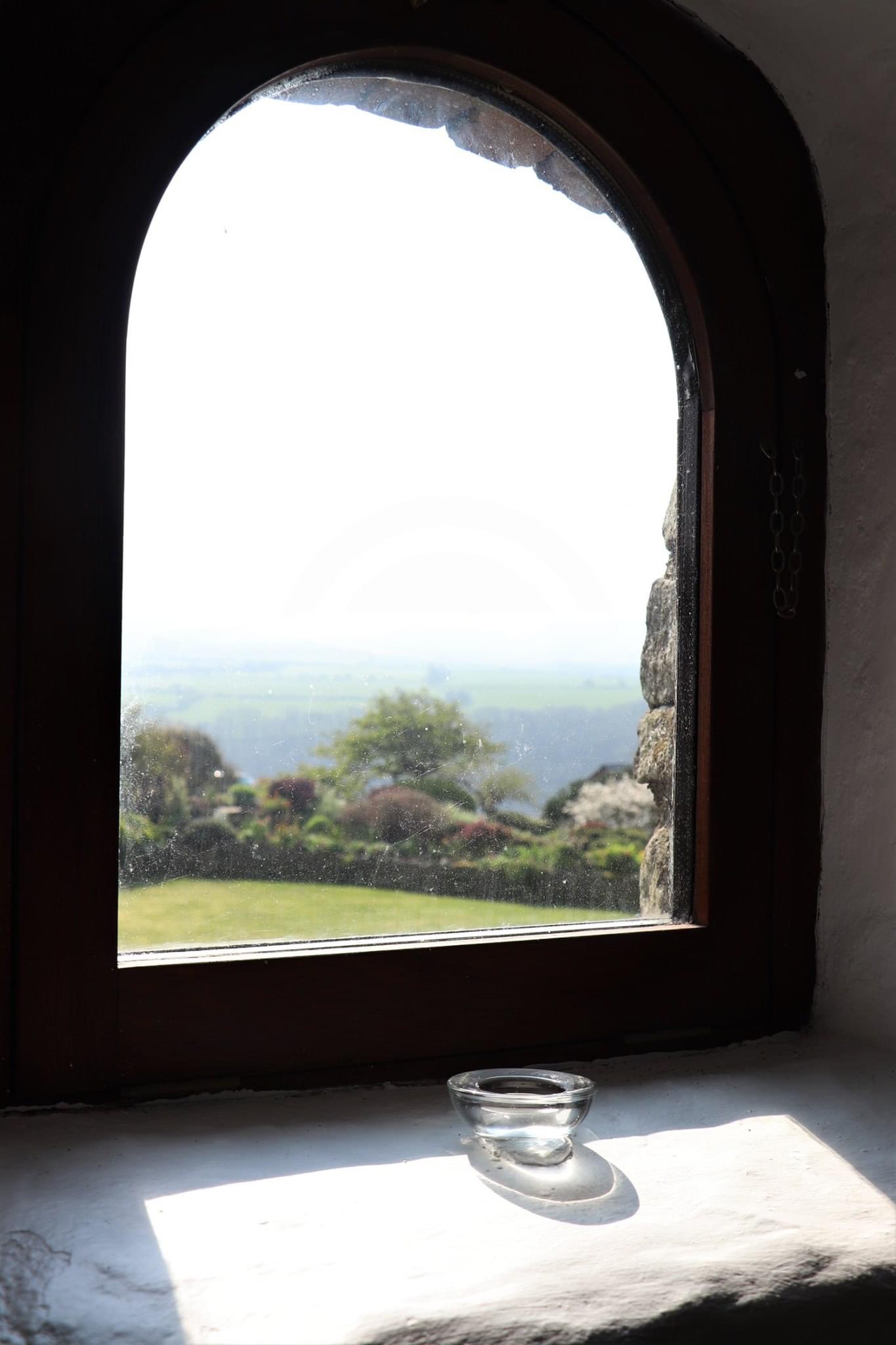 Stay……..!
Palm Sunday,
and our thoughts are with processions and shouts
and waving palms,
of crowds, songs and a donkey carrying the King of kings.
"Blessed is He Who comes in the Name of the Lord!"
Time was, when every village in our land
would re-enact the scene,
with a local donkey and some willow branches,
and children running alongside.
It probably still happens in some places,
but for the most part, it remains a story in Scripture
that we enter into through our imagination.
This year, we can have no processions,
no walking along in a crowd, no gathering together
to sing the heralding songs of blessing and praise.
This year, we stay in.
We may well link up with our brethren via the airwaves,
but we stay in.
We might be tempted to feel robbed by the fact that
Holy Week will be a solitary journey this year…..
but no…..What a gift we have been given!
For most of us find ourselves with more time;
more time to sit in the Scriptures,
more time to place ourselves as onlookers in the crowd,
more time to receive the Holy Spirit's revelation
of the depths of what Easter means for us.
We don't need to go anywhere but the listening heart
and the enlivened inner eye.
"Stay in your cell, and your cell will teach you ALL"
is an oft quoted saying from the Desert Fathers,
(although for most of us, most of the time,
a monastic cell is a far cry away.)
But now, we have been withdrawn from the crowds
into our own homes, away from the distractions of life.
It is here, in our "cell", that we are learning
more about ourselves;
what we truly believe, how firm our foundations are,
how we react to "being" rather than "doing",
how we relate to those who share our home.
We are learning how to dig deep in prayer,
how to walk with the Holy Spirit in the minutiae of life,
how to reach out, without touching,
how to rely on the Word of God as the only true Truth.
How do we see this time….imprisonment or opportunity,
something to be endured or a treasure?
Have we quieted our souls?
So, come!
"Stay in your cell, and your cell will teach you ALL!"
Blessed is He Who still comes into our hearts,
wherever we are, day by day, minute by minute.
Welcome Him with outstretched arms,
for He comes as the King Triumphant……
we know, because we know the end of the story!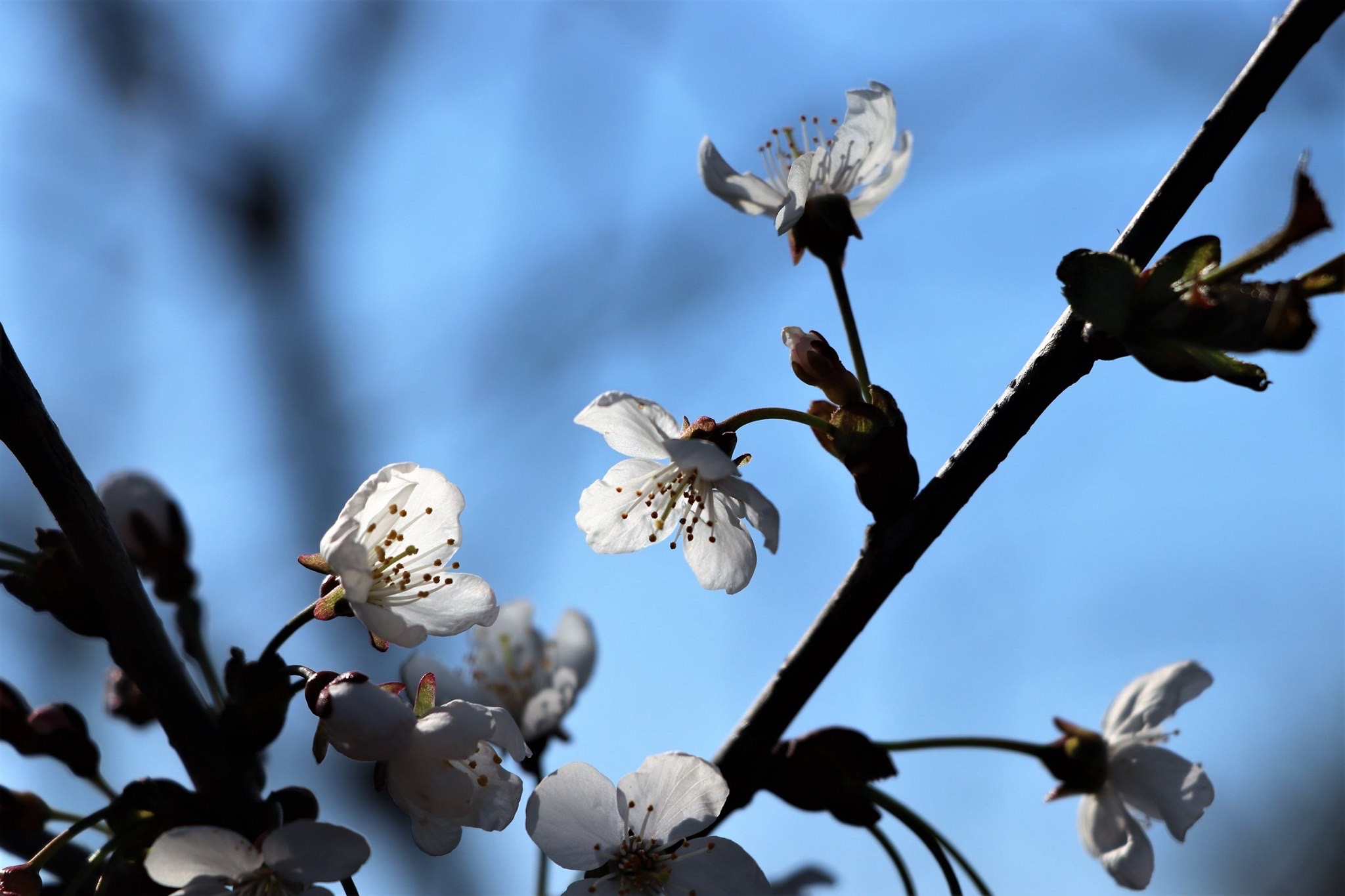 Light Catchers……
This past week, the skies have been so very blue
and the sunlight, strong and clear.
It has been a pleasure to take one's daily exercise,
however local, with time to stop and stare.
I loved these early cherry blossoms,
gently catching the morning light;
each is facing in a different direction,
but each bears the luminescence of the sun above.
But when I stepped back, I could see the whole tree,
quietly radiant, glowing with white simplicity.
And I saw it as a picture of God's People in this season.
For most of us, unless our job asks for sacrificial service,
our calling is to worship and pray.
It is largely unseen work,
undoubtedly scorned by those who do not know God,
and requires a simplicity of purpose
that has rarely been offered us before.
And each of us, like these blooms,
will have our natural inclination;
looking up, looking down, looking out,
looking from side to side…….
worship, adoration, contemplation, warfare,
declaration, intercession, encouragement……
We should probably all do a bit of everything,
even if some are unfamiliar,
but each of us will have our own unique voice
that speaks the Words of Victory,
each will have our own way of catching the Light.
WE may be hidden away in our homes,
but our spirits certainly are not;
they are joined, blooming beautifully,
on the Tree of Life.
We may not see the bigger picture just yet,
but I believe that the time will come
when ALL will see
and many sons will come to glory.
So, we bloom, faithfully,  in our homes,
catching the Light,
spreading it right through the land.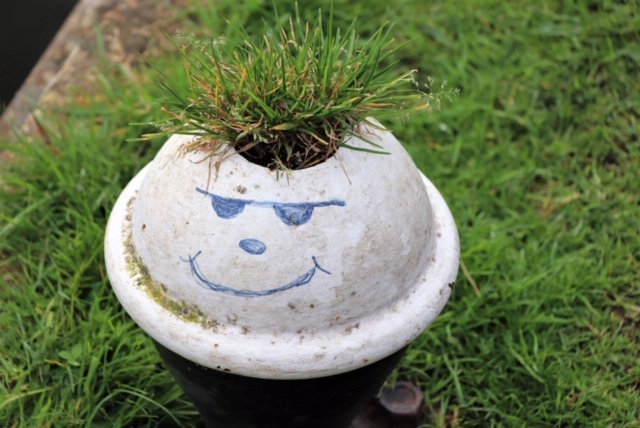 Smile……..
You never know what you will find down by the canal!
This made me smile;
graffiti isn't always welcome,
but this is such a genius bit of impromptu humour
by someone who saw this tufted mooring post
and was transported back to those days
of growing cress in empty eggshells,
painted in a childish hand with a wobbly portrait.
In these days, we need to keep smiling;
not just "keeping your chin up" type smiles,
but ones that come from a heart that is rooted in joy.
There is so much to be sombre about,
so many serious situations to pray about,
so much adjusting to deal with,
so much uncertainty, shapelessness of days,
so much we don't understand.
But what did Jesus say?
"In this world you will have trouble.
But, take heart, I have overcome the world."
In the old translations it says,
"Be of good cheer!"
This is not a suggestion, but a command!
If we are rooted in Him,
then our joy is not rooted in circumstances.
Our joy is fixed, with the glue of faith,
to the Hope we have before us;
not just our personal assurance of Eternal Life,
but the eventual time when God will wrap up creation
in Eternal Victory.
We have been privileged to have been given a glimpse
of the eventual outcome;
that a new Heaven and a new Earth
will be peopled with the sons of God, in eternal praise.
Living from that perspective,
puts our "momentary troubles" firmly into context,
gives us a joyful hope that is steadfast and confident.
Yes, we are called to mourn for the lost,
yes, we are called to resist the evil,
yes, we are called to preach the Word,
yes, we are called to weep with those who weep,
yes, we are called to do without………
BUT
we are also called not to lose our joy.
So, we will smile at this cheery little chappy,
and keep our hearts smiling
in Him Who Loves us
and Who Holds all things
in His Hands.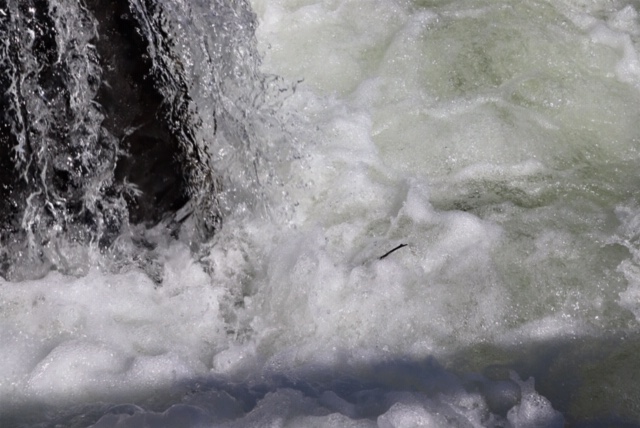 Strength……..
There is a striking weir in the feeder stream to our canal;
it is like a "L" shaped bath tub that fills from all sides,
creating a swirling watery cauldron of white water.
After all the rain of recent weeks, it was still flowing loudly
as I passed by a few days ago,
the power and strength of the water undeniable
as it swept downwards along its course.
As I stood enjoying the movement, the sound,
and the play of light upon the water,
I noticed this tiny twig, standing firm in the torrent.
It seemed so insignificant, so likely to snap,
yet it appeared immovable.
I can only presume that this twig is only the tip
of a much larger branch that is trapped under the water,
a branch that is going nowhere.
Therefore the twig stands, in borrowed strength.
Another picture for these days:
We, as individuals, can feel so frail and insignificant
in the face of this great torrent of sickness;
it appears to have unstoppable strength,
gathering up nations in its path,
bringing death, turbulence and fear in its wake.
Yes, we can do our bit, in practical terms,
but it feels very little.
YET, because we are joined to the Branch of Life,
we have a strength that is not our own;
we have strength to resist the flow,
strength to make a stand against fear,
(even if we have to repent of it, now and again.)
We have strength to keep our heads above water,
still singing, still praising, still declaring Truth,
because the source of our strength is immovable:
GOD; our Rock, our Strong Tower, the Ancient of Days,
the Everlasting Arms, the Lord, Mighty in battle,
the Lover of our souls, the Eternal Victor,
the Glorious One.
HIS is the Strength, the Authority, in which we stand;
we don't need much of our own,
except for the persistent upkeep of of our joining
into the Tree, the Branch, the Vine,
with great thankfulness and praise.
We may just be twigs,
but we're going nowhere!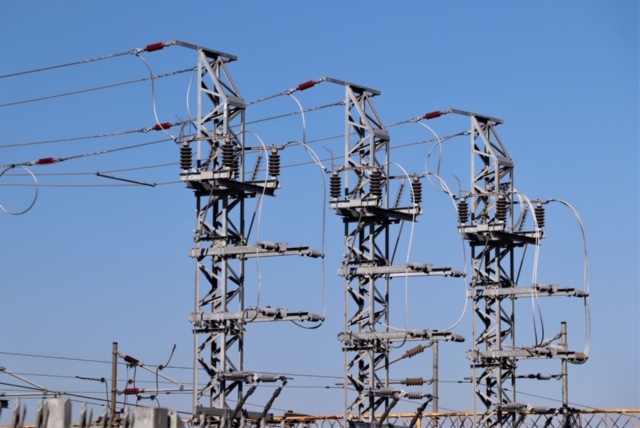 Trinity of Power……
My walk took me beside the railway
and I stopped and looked again
at these impressive power lines.
What struck me this time, was that there are three of them;
what a great picture of the Power of the Holy Trinity!
First we have the Power of the Father:
The power of His utter Holiness,
before which nothing and nobody can stand
without the covering of the Blood.
The Power of His supreme Love,
which is so tremendous, yet so personal.
The Power of His awesome Omnipotence,
which blows our minds, yet comforts our spirits.
Then we have the Power of the Son:
The atoning Power of His precious Blood,
which speaks a better Word over us
than the power of death.
The absolute Power of the Authority of His Word,
which says, "Be free, be healed!"
The transforming Power of His Death and Resurrection,
which demonstrates to us, that with God
the enemy is defeated and nothing is now impossible.
And lastly, we have the Power of the Holy Spirit:
The Power of His Living Fire,
which burns our dross and sets us ablaze for Jesus.
The Power of His Living River,
which washes and refreshes and sweeps us along.
The Power of His Living Touch,
which illumines, heals, delivers and sends.

What a Godhead,
Who continually move as One;
Each honouring the Other,
Each ministering to our hearts,
Each supplying us with Grace,
Each calling us forth into Glory,
with Power which surpasses these earthly power lines.

Alleluia!
We can but bow before our God and worship……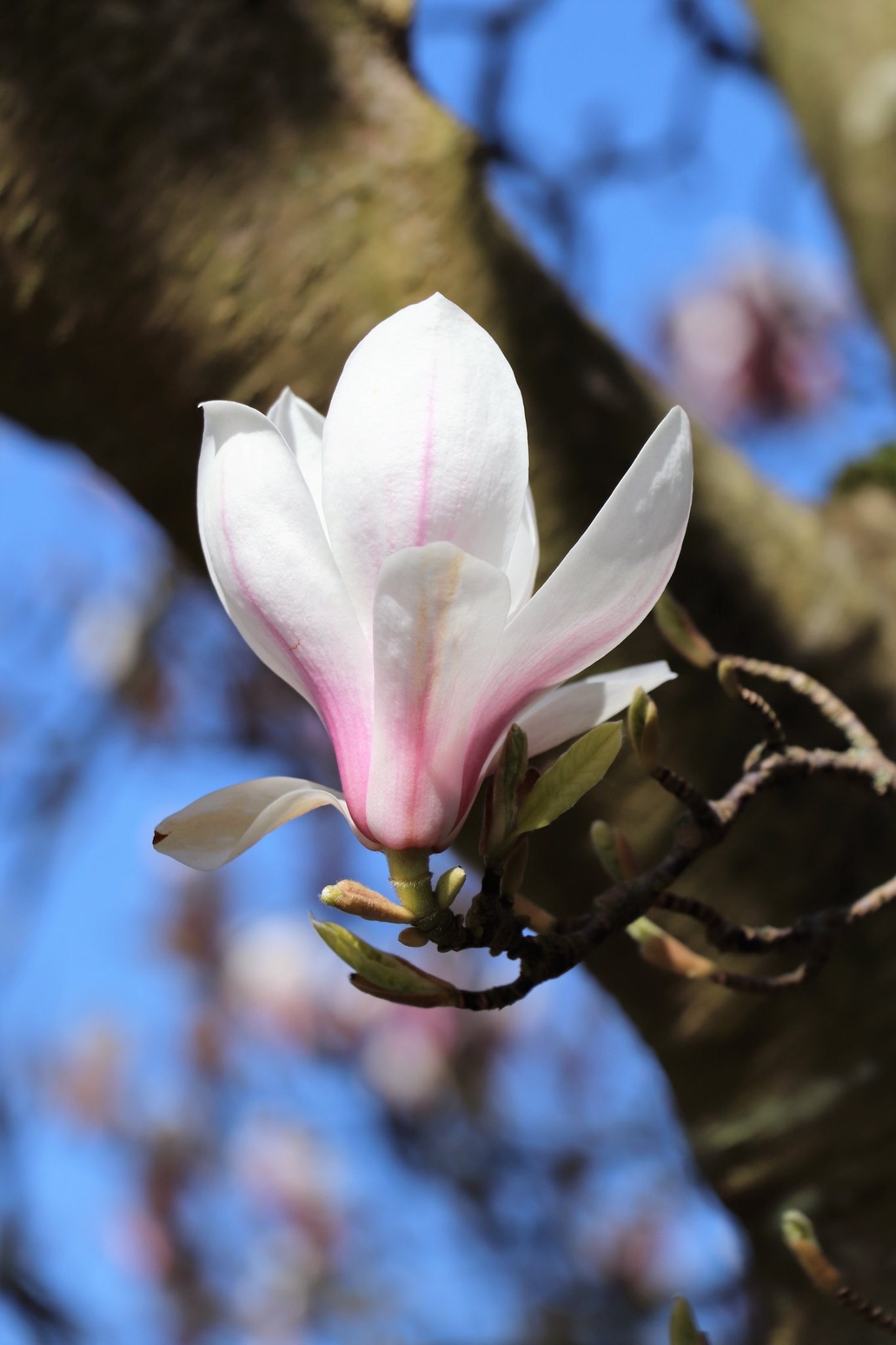 Shelter……..
Last weekend, our magnolia tree was tossed by the wind
and this week it has been slightly touched by the frost.
A lot of the blooms are now very scruffy,
some shredded, some discoloured,
but if you don't look too closely
it still looks glorious against the blue sky.
But, on the inner branches,
slightly sheltered from the elements,
there are some perfect blooms still to be found.
They stand, witness to the power of the hiding place.
They stand, showing us where to find peace.
They stand, demonstrating the song in a hard place.
They stand, fragile, yet strong.
They stand, face upwards towards the light.
They stand, a picture for our hearts.
Sheltered.
"Whoever dwells in the shelter of the Most High
will rest in the shadow of the Almighty."
We are sheltered by His Presence,
by our very real experience of His Overshadowing.
We are sheltered by His Word
that feeds our spirits and gives us direction.
We are sheltered by His Love which overcomes fear.
We are sheltered.
But, unlike the magnolia flowers
that have no choice as to where on the tree they bloom,
it is up to us to choose our position.
Do we seek the hiding place?
What are we filling our minds with?
What are our preoccupations?
Have we settled our souls into His Peace?
"Whoever dwells in the shelter of the Most High
will REST in the shadow of the Almighty."
If we are secure in our position – being held in the Palm of His Hand
and covered by His Feathers, then REST is our portion.
Then, from our place of rest, we can be to others
"a shelter from the wind, a refuge from the storm."
Then, from our place of rest we can sing the songs that awaken the dawn.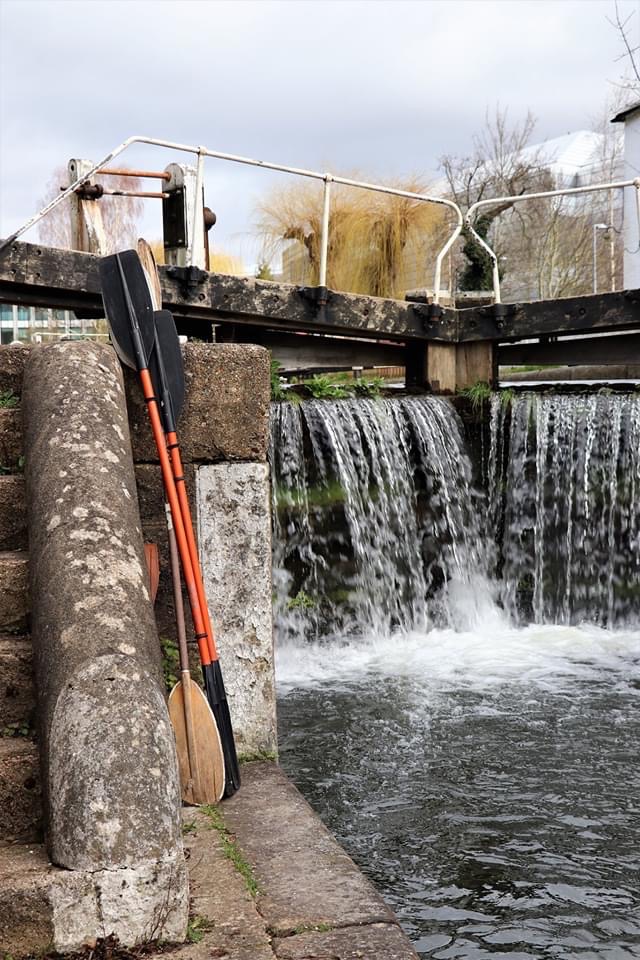 No oars……?
Whilst walking along the canal, only two weeks ago,
I approached a lock, (from the other side),
and in the quiet morning
I could hear the water cascading over the lock gates.
So when I reached this spot, I turned
to see the temporary waterfall
but was surprised to see this stack of paddles
resting against the steps.
Surprised, because there was not a canoe or kayak in sight
either up or down the canal.
So….. a mystery!
However, it made an intriguing picture, so I took it,
smiled and walked on.
But looking at it this morning, I see our current situation;
the world is indeed in flood,
a flood of disease, fear, uncertainty, grief, helplessness,
and people are being stripped of nearly everything
that constitutes normal life.
They are indeed being asked to pretty much cease
from steering their own craft on some choppy waters,
to go where the river takes them,
even if it seems to be heading towards disaster.
Some are being swept up into such sacrificial lives
that only the Hand of God can preserve them.
Some are facing financial desperation,
some are trapped in difficult family situations,
some are in an agony of anxiety for loved ones,
some are lost in a sea of loneliness,
some are just rudderless, floundering without occupation.
All have lost their oars.
As God's People, we (should) have had some practice!
Surrender is part of the package:
"Your will be done." All I have is Yours." "Take me as I am."
"Lead me in the Way that I should go."
"I trust You, My Rock and my Defender."
"Into Your Hands……."
We are not called to scramble out of our canoe
and carry it along the bank in our own strength
the moment we realise that we can no longer steer.
We are called to REST in the safety of the Father's Oars.
Even if it feels like we are drifting in the eddies,
we have Security, we have Love,
we have Hope, we have a Purpose,
we have Favour, we have Deliverance,
we have Eternity beckoning,
we have JESUS.
We are blessed. Let us spread the blessing and help others to hang on.
Contact
Contact the Parish
Administrator,
Janice Charlton
on 0191 236 7962
or email
infostaidans@gmail.com
Facebook
Instagram