We hope this page will uplift our spirits during covid-19
– an antidote to all anxiety of these times
These photographs and the reflections

are from Claire Gardner's Facebook page


shared here with her expressed permision:-
"Please feel free to share any that you feel will be encouaging"
In the Cracks…..
The bright green of the moss sung out at me as I passed.
Growing in the cracks between the paving setts,
it seemed to me to be a picture of life bursting out,
refusing to be shut down by the hard stuff of death.
Tiny spores have landed there and mixed with small grains of sediment, and sprung into life, growing, spreading, filling,
and, if left unchecked, will rise up and spread further
and will cover the barrenness of the path.
Life wins……eventually.
We see it in every derelict building,
in every untended road, every abandoned site.
Even concrete cracks sooner or later
and metal and wood degrade and remember their origins.
Life seeks to return;
demonstrating the God-given power of Creation
to transform, to reclaim,
to PROclaim His Steadfastness, His enduring Gift of Life.
Man, in his bid for tidiness,
scrapes off the moss with unseeing eyes,
clears the ground, gets out the weed killer and seeks to reinforce his control…..
but the moss comes back and the weeds grow again, because Life wins.
But, more than that, ETERNAL LIFE WINS!
Nothing, absolutely nothing, can come between us and the Gift of Eternal Life.
The world will want to squash it down under death,
laying great paving slabs of woe upon all people.
BUT,
God is Life and God is GOD, and He wrought Victory at the Cross…… so the enemy is mouthing empty words.
Therefore, we stand in the cracks,
mixing the spores of Truth with the sediment of faith and we grow, we fill, we spread the Word,
we glow with LIFE,
Light pushing up through the darkness, colour taking over from the grey.
Hope emerging. Life singing.
Together we will transform the path…..
and the world will see a bit more of God.
Raised…….
 So, I took the photo of the little yellow leaf and began to walk on.
There was a small breeze
and something made me look back;
the leaf had been tipped up
and was now like golden stained glass,
no longer just being shone upon,
but being shone through.,
transformed with borrowed glory.
And so it is with us.
True worship transforms us.
It is not, should never be, the reason why we worship;
we worship God because He is God and worthy of our adoration.
However, our worship is an exchange,
because that is how God works.
We fall face down at His Feet,
and He sends His Breath to raise our faces to meet His,
His Radiance falling upon our countenance
and leaving there the whisper of His Light
that glows upon us and through us, as spirit meets Spirit.
We may be, like this leaf, totally unaware of the transformation
and maybe that's how it should be!
True Divine Encounter always brings change.
(We become like that which we worship….it is a spiritual law,
which is why we have to be careful where we set our hearts!)
But with God, we are safe, we are Loved,
we are raised beyond ourselves, and shone through,
because we give ourselves, warts and all, into His Grace.
Look at this leaf…
It is not perfect;
its shape isn't symmetrical and it is blemished…..
but that does not stop the breeze catching it
and the light redeeming it into beauty.
It is our attitude before God that determines our radiance,
not any virtue of our own, or lack of it;
we cannot attain it ourselves.
Ours is the worship and the praise,
the lack of resistance to His Breath,
the willingness to be a translucent vessel.
His is the raising up, even as He raised Jesus from the dead.
It is ALL Him, ALL Love, ALL Grace.
Who is like our God?
"We worship You, Almighty God,
There is none like You
Face Down……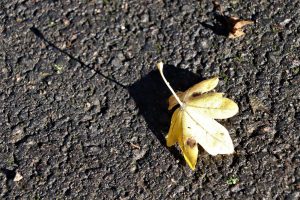 This little field maple leaf has fallen from its tree to the lane, where it has landed, face down,
in the morning sunshine.
I noticed it first because the light picked out the pale gold
against the tarmac;
it was only when I looked again that I saw its position.
Face down.
A picture of our hearts in worship, nay, more than our hearts, our whole being.
Do we take our Grace-filled access to Almighty God too lightly?
Do we charge into His Courts without recognising His Presence?
How do we respond to utter Holiness?
Wherever, whenever God's Glorious heavy Presence is manifest
among His People,
falling down in worship is the only first response.
We see it in the Bible,
we read of it in the stories of all great visitations,
we experience it occasionally in our services
or even in our individual encounters;
when Presence blows away the conventions of society,
the restraints of personality, the stiffness of necks
and has us flat out before Him.
Maybe we prefer to keep a respectable facade,
to merely bow our heads or the knees of our hearts.
Maybe we have never met God in that way.
Maybe, just maybe, we prefer to have Him at a distance.
But do not our hearts yearn for that encounter deep down?
Do we not hunger for that deeper experience of Holiness?
Maybe, then, it is time to fall from the tree;
to let go,
to land,
defenceless at His Feet,
where the Light of His Holiness can shine upon us ;
the Light that illuminates who we are before Him Who IS Light,
the Light that Sees us and Purifies us,
the Light that is piercing, Holy Love,
clothed in awesome Majesty.
Where we fall, not in shame (for that has been paid for)
but in full and sudden knowledge
of the enormity of both His Holiness and our humanity,
and the preciousness of our Salvation.
Where we fall down in adoration,
where we surrender ALL.
Can we stand, still stiff necked in that Light?
We can try!!
But do we want to?
It is what our hearts long for……….
Faith……..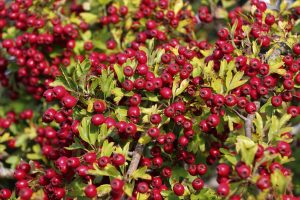 There are a lot of hawthorn trees up on the Downs,
all bearing their haws at this time of year,
but this particular tree stood out for the brightness
and abundance of its fruits.
The whole tree was singing with red;
I just had to go over to look at it,
to wonder at its fulness.
And the Lord said to me,
"Do you not see?
THIS is the abundance that is coming!
In the midst of all the appearance of lack and pain,
of restriction and loneliness,
there is a rising and a swelling of something Greater
which will come forth in a blaze of Praise.
Raise your eyes!
Do not look around you, but look to Me!
Do not become weary of believing;
the season may be long, but it WILL be fruitful,
the ways of man may be perplexing, but I AM GOD,
your heart may feel frail, but I AM GOD,
the horizons may seem narrow, but I AM GOD.
Will you let ME be GOD?
Will you let go of your rags of understanding and control?
Will you live by FAITH alone?
Faith that will not let go, because it knows that
I WILL NOT LET YOU GO……..
Faith that reaches out beyond the reason
that tugs at your mind.
Faith that sees what your human eyes do not yet see.
Faith that resists the downward spiral that is presented.
Faith that says that I AM GOD…..and that I AM GOOD.
Faith that sees the fruit before even the flower.
Will you live by faith?
Will you persevere in MY Strength, not your own?"
And I stood,
as I do now,
aware of the rags and tatters of my unbelief,
and I repent;
I repent on behalf of myself, my people and my land.
And I pick up my armour and put it back on,
the armour of Heavenly Clothing that is mine to wear,
and I look at these extraordinary berries
and say "YES….it IS coming!"
Let us, His People, see.
Let the whole earth see……….
and praise Him Who brings forth the Victory.
Alleluia!
Remembrance……….

That fern covered hollow in the field, guarded by an ancient hawthorn tree,
is all that remains of a church.
A church that once served the people of these hills
and the many pilgrims on their way to Bardsey,
who had come up from the south along the old road
and were going down to the estuary
where the monks of Cymmer ferried them across the river.
Pilgrims no longer throng these hills,
there are no longer monks at Cymmer,
the church has long fallen,
its stones used for building barns,
but the land remembers the presence of God's People.
That hollow stands out, unfit for mowing,
and revered as a place set apart in local remembrance.
The field boundary echoes the walls of the enclosure,
and the farm in the valley below is called Pant y Llan,
The Hollow of the Church.
There is remembrance,
even in this land that has largely forgotten
its rich Christian heritage, both Celtic and Revival.
What does it take to reawaken that remembrance?
Not just in Wales, but all over our land?
It is not the uncovering of stones or the rebuilding of walls,
the repairing of old buildings or the perpetuation of tradition
that will bring the Awakening,
but the heartfelt cries of God's present People;
cries that do battle against the pagan spirits,
cries that see, in faith, the harvest of souls,
cries that open up the ancient wells,
that they may once again refresh the thirsty.
The thirsty, who know not their thirst for Living Water,
but seek to find other drink to satisfy their longing.
The thirsty who need to be offered something more
than a dim remembrance of times past;
something, Someone, Living, not a pile of stones.
The thirsty, who need not just a drink,
but first a touch, a word, a smile, a connection,
a thawing of ignorance or resistance
with the warmth of God's Love carried, nay burning, within us.
Are we willing, both to intercede and to love?
Yes.
For the Cross of Christ is worth more than remembrance; it is a matter of Life.
The Bend……

Walking beside this railway line
(not our local one),
I was amazed by this double bend;
what geographical difficulty, what land dispute
necessitated such a sudden change of course?
The line runs parallel to a main road,
but here it crosses a bridge and changes sides.
There must be a story in the archives somewhere!
But here it is;
a bend that is about as tight as you can get on a mainline railway,
a wrinkle in the smooth straight line from south to north,
beautifully engineered,
but probably a nuisance for the drivers,
for the trains just have to slow down…….very considerably.
It must take skill to gauge the alteration of speed just right
so that the passengers are hardly aware;
no jerks or spilled coffee,
just the momentary smooth, snake-like twist,
and then on it goes.
It's a challenge, a landmark in each journey.
And what of our life journey?
Yes, there are indeed such twists in its smooth course;
hours, days, weeks, or whole seasons
where our pace of life is slowed and altered,
interrupted, often against our preference.
Bereavement, sickness, redundancy, emergency, disaster, war,
and yes, even a virus,
cut across our assumed projectile of life,
often without warning,
and we are forced to apply the brakes
and negotiate the bend.
We may even feel that we have ground to a halt,
but whilst we are still breathing, life's journey continues,
albeit more slowly.
How do we see it?
Catastrophe? Challenge? Landmark? Opportunity?
As always, we have a choice:
We can look inward……or we can look upward.
We can wail and complain…….
or we can speak God's Word into the situation.
We can live in unbelief or faith,
fear or trust.
We are prone to wobbles, but God is not.
He is there, our Rock, our Defender, our Strength.
He is our Shelter against the storm,
into which we lean,
exhausted, weak, perplexed or afraid,
or merely bored, unsatisfied or lost.
But, we are still breathing;
breathing with the Breath of Life, Eternal Life,
bestowed upon us by the Cross and the Holy Spirit.
Nothing can take that away from us.
And, in time, the speed picks up again,
often faster than we would like!
Are we ever satisfied?
YES, we are!
For our sights are set on Heaven, our destination;
the bends of life are just our journey……
and our journey is in God's Hands;
He is the very best Driver.
Choices……..



I don't recall seeing this before;

two gates latching onto the same gatepost
so that you can open them both, like cupboard doors!
But, you do have to know which one you want to open,
which field your path goes into,
whether you need a track or a field path,
or even open mountainside.
You have to have consulted the map or looked for the signs.
It spoke to me of choices.
Not the "what shall I have for dinner" type of choice,
but the life-changing choices,
the big ones.
When you have to deliberately open a gate
and there are two to choose from,
and they both look strong and inviting……
and the cry goes out to the Lord, "Which one?????"
"Where are You leading me?"
It is rarely a comfortable place to be in;
it tests our trust, our preference to be in control,
our willingness to be led, our willingness to listen,
and it's even harder if there is a time scale involved.
It's often a place where we freeze in indecision
(which is different from waiting on the Lord!)
unable to see the way ahead.
God is so Gracious to us;
He is patient with our wobbles and calls us, again and again,
back into His Presence to hear Him,
to seek Him first above all things,
to be still and know….
(rather than freezing like a rabbit in the headlights)
to be still and know…..Peace.
Peace that says, "Your will be done…whatever."
Peace that comes girded with Strength to reach out……..
and open a latch.
Peace that knows that it may even be the wrong latch
but God will make that clear pretty soon.
Peace that doesn't fret about lost opportunities;
the "what if's" and the sideways glances.
Peace that says "If it's right in God's Eyes, it's Right."
But when it comes down to it, in earthly terms,
WE have to make the move.
We cannot stand before the gates forever,
discussing, pondering, enquiring, dithering;
we have to reach out, make the step,
touch the latch, try the gate.
And, in the doing, the Lord makes the Way clear.
How Trustworthy He is!
He says,   "I know the plans I have for you,
plans to prosper you and not to harm you,
plans to give you hope and a future.
Then you will call on Me….and I will listen to you.
You will seek Me and find Me
when you seek Me with all your heart."
"Seek first the Kingdom….
and all these things shall be added."
Yes, Lord, we believe.
Yes.
And Amen!
False Securities………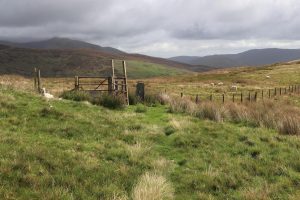 I had walked along my faint sheep track across the rough pasture
and my heart leapt to see this stile,
confirmation that I was indeed in the right place.
But Oh!
When I got nearer, it dawned on me
that the stile was lacking its second side…..
you can climb up, but not get down in the next field!
It's alright….there's a gate.
But wait! There's a chain on the gate……
Had I come all this way only to find an impasse?
No.
On getting closer, I discovered that the chain on the gate
was fixed by a hook, not a padlock,
and it was very easy to open.
Alleluia!
But my attention had been drawn to that broken stile;
it had shown me the way, but had proved worthless….
Lord, what am I supposed to see here?
And He showed me that this stile is like "religion";
it shows the Way, but it doesn't get you IN.
It stands, a landmark of Truth, a Sign post,
but of itself, it is a false security.
When we rely on "doing" church,
on our traditions and habits (however good),
when we blindly follow a leader, rather than Jesus,
when we read many good books, and the Good Book,
but do not let them change us,
when we let the words of others fill the void inside
rather than going straight to the Source;
this is "religion"
this is when our stile is broken,
this is when we have to find the Gate.
The Gate, of course, is Jesus.
The Gate that is never locked to us.
The Gate that opens easily enough
if we take the time to come close and really see.
This is not just about initially finding Salvation,
(although there are many broken stiles on offer out there)
it is about entering into the Kingdom;
Kingdom living, Kingdom relationship, Kingdom prayer.
We, and only we, are responsible for our entering in.
We are the ones who make the daily decision to open the Gate.
No-one else can do it for us.
No-one else can enter the secret place on our behalf;
they can pray for us, speak God's Word over us,
demonstrate His Love for us, teach us, encourage us,
but we cannot live in the security of other people.
We have to put our hand to the Gate, open it,
and walk through.
Again and again.
So what is the hook that releases the Gate?
Faith.
The absence of unbelief;
that miserable excuser that says,
"Not me, not here, not now."
Faith that says, "Yes!"
and walks in to the reality of Grace.
Faith that sees past ourselves into His Pathway
and is willing to step in.
No false securities,
but the Living God.
He is True.Your content goes here. Edit or remove this text inline or in the module Content settings. You can also style every aspect of this content in the module Design settings and even apply custom CSS to this text in the module Advanced settings.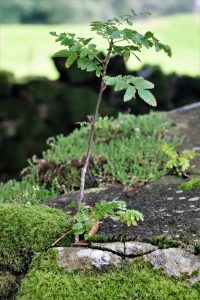 Roots………
Along the green lane that leads to the cottage
there is a huge boulder, just sitting there,
gathering moss and lichen.
It has a flat top and is very inviting to younger persons
to climb upon and strike some silly pose!
But this time I noticed that this seedling rowan tree had grown,
tucked into a crack filled with organic matter,
well watered from the dripping trees above.
But it's going to be interesting to see how it fares over the years:
Will it grow strong?
Will it split the rock?
Will the lack of root space kill it?
Or will it just grow in miniature, like a bonsai?
Will someone come along and be tempted to pull it out?
(If they can)
One thing is certain, it will never reach the proportions of its parent,
a massive, ancient and stately ash that guards the cottage gate.
If it survives it will be small,
because, in trees, size is proportional to root span.
It is the same with us.
How deep and wide is the spread of our roots in God?
It matters, because our growth is determined by it.
If we sip and sample with the Word,
we will live, but not flourish,
shallow rooted and unstable in the wind.
If we limit our reading and listening to one school of belief
we can become narrow.
If we don't take time to send our roots down into the good soil
of prayer and worship
we will begin to thirst and wither at the tips of our branches.
If our roots are feeding from soil poisoned by the past
our spiritual growth may be sickly and weak.
But if we are rooted well, fully watered and nourished,
there is no limit to our growth in Christ,
for we have been promised every spiritual blessing,
every gift, every fruit.
We are new creation trees,
reborn into a flourishing beyond the natural,
if only we consent to feed,
to stay deep and close to the One Who Redeemed us.
And Grace proclaims that for us, unlike this tiny tree,
we can reset our roots at any time through repentance:
We can recognise our thirst and our hunger,
our shallowness or our narrowness.
We can choose to find deep, rich Soil again.
We can place ourselves in the Rain.
We can hide ourselves in the Spiritual Rock that is Christ;
a Rock that contains caverns of abundant nourishment,
not mean and hungry cracks.
We can root ourselves by saying "Yes…..here is best!"
and, in doing so, find ourselves grown to a stature
way beyond our expectations
because it is ALL Him.
Alleluia!
So roots matter.
If we look after them……..God grows the tree.
Leading……….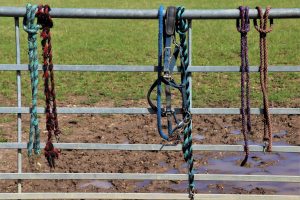 This array of leading ropes, so neatly tied to the gate, was an unexpected source of colour on my walk.
Each horse in the field obviously has its own, and one of them, apparently, is so obedient that it doesn't need to wear its head collar all the time for its owner to grab, but comes when it is called and docilely presents its head to be dressed.

But what spoke to me most was the fact that each rope was different.  Individual.
It spoke to me of God's tender appreciation of our uniqueness, of our characters, of the way we respond to Him, and of the very individual way He leads each of us.
How wonderful that He doesn't have a "one size fits all" or indeed "one colour suits all"
approach to His People!
Maybe He has to be firmer with some of us, requiring a stronger rope!
Maybe He has led us for so many years that our rope is frayed with age……
but by then, we should be guided by the gentlest of pulls.
Maybe we need a good plain and straightforward rope;
nothing fancy, just "This is the Way, walk in it."
Maybe we need a bright colour,  to attract our wandering attention and call it back.
Maybe we respond to a pretty woven pattern, that engages our imagination and understanding.
Maybe we merely have to see just two colours, Him and ourselves, twisted into a coil of strength.
Maybe He is able to lead us by His Voice alone.
But lead us, He will. He leads us continually into His Purposes.
We may feel that this season has had us all out to grass, but in our paddocks we have learned to feed well, to be content with small company and limited vistas. We have learned to engage with God without going anywhere…… yet He has been leading us, even there!
But the time is coming when we will be called to the gate and how very important it is that we let Him lead us, and not be tempted to go off willy-nilly after our own desire.
We know not the destination of our next ride, yet we are called to be ready, easily summoned and obedient to His Voice, happy to have our rope, yes our very own rope, Lovingly attached.
We are not left to wander and flounder:
We are Led. We are Guided. We are Known. We are Loved.
May we go willingly, bringing Joy to His Heart and Glory to His Name!
Praise…….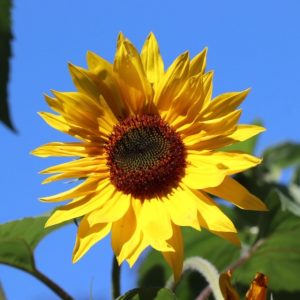 After not as many hours of sleep as I would like,
I am definitely not feeling like this sunflower……
its cheerful face, that I can see from my window,
standing strong and high in spite of the rough weather,
is a reminder to be steadfast,
even as God is steadfast,
and to stir my spirit to praise.
Why?
Not to make me feel good,
but because God is praiseworthy, all the time.
He is Holy and Glorious,
He is Majestic and Powerful,
He is Loving and Merciful,
Wise, True, Good, Omnipotent,
Wonderful, Perfect, Kind, Strong,
Light in the darkness,
Righteous in Judgement.
He is my Saviour, my Redeemer, my Deliverer, My Healer, Comforter, Shepherd, Refuge and Strength.
He is my King.
And He doesn't cease to be these things just because I am bleary-eyed!
So, arise, my soul, and PRAISE!
And in the praising I will find Strength because I am looking to Him, not myself.
And in the praising I will release something that would have remained bound
had I not turned my face Heavenwards.
And in the praising I will find Joy because that is His Promise.
In looking to Him Who is Radiant with Glory, I will find myself reflecting His Light.
What a Glorious, Graceful exchange.
I'm going for it!
How about you?
Together……..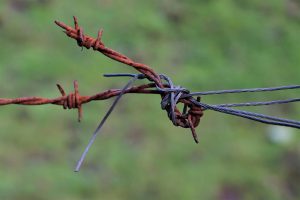 So, the farmer had to mend a fence;
he used whatever he had to hand and forged this amazing knotted join.
I bet he never imagined that someday someone would find it beautiful!
But here we have such a lovely intertwining that speaks to me of our togetherness with Jesus.
We see the Blood-stained Crown of Thorns interwoven in a deep and irrevocable way
with the strong fibres of our lives;
both sides reaching into the inner place, meeting, touching, interlocking, giving and receiving,
held and holding.
He in us and we in Him.
The Thorns reach right into our hearts, bringing atonement and redemption at the moment of each surrender's sweet pain.
The Thorns reach right into our hearts, sharing our sorrow and suffering,
bringing comfort and strength, and a joy that meets us in unexpected places.
The Thorns reach right into our hearts, speaking of a Kingship that is not remote but passionately involved.
And the fibres of our being reach in, welcoming, embracing, clinging on to the Lover of our souls.
We meet, we touch, each moment a spark of strengthening that forges the connection, realigns the fibres
and sends us forth with Mightiness that is not our own.
There is no letting go.
We may ignore for a while, wilful in our prideful weakness,
but the Spirit-knot is tied, irrevocably, and the Thorns within prick us back into Truth.
There is such a togetherness that we carry around within our hearts:
May we welcome it, treasure it, celebrate it, live from it.
May it call forth praise and worship from our lips,
may it birth the deep adoration of our hearts.
How blessed we are that the Creator of all things should choose to dwell within, in that deep, eternal entwining.
Alleluia!
Abandoned……..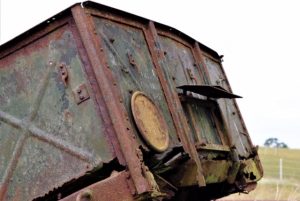 I always gravitate to pieces of old, rusty metal; their colours and textures are very photogenic!
But when I had finished enjoying its crusting details, I stepped back to look at the whole.
It had once been a very fine trailer, well made, sturdy, obviously built several decades ago
and has seen good service.
But now, it sits on the verge of a field, a crumbling repository for farmyard rubbish, certainly no longer fit for purpose for any grain would just pour out of its gaping holes and its rotted timber base.
So why keep it?
Is the farmer too lazy to take it to the scrapyard?
Does he still value it for its present shabby purpose?
Does he retain it for old times sake? ……………  We don't know.
But it lingers, providing passers by, like me, food for thought.
But now, it speaks to me as a warning from the Lord.
How many rusting trailers do we have lurking in our undergrowth?
And, more pertinently, how many are there in the church?
Church history is a fascinating thing; the progression of understanding and expression within God's beloved People
has ebbed and flowed over the centuries, in many cultures and forms,
Life breaking forth from periods of stagnation, new ways of "doing" and "being" church emerging as people like
Cuthbert, Francis, Luther, Wycliffe, Wesley, the great revivalists, and our modern radicals have pushed the boundaries of tradition in search of Truth.
God's Truth rather than the traditions of man.
People willing to question why we have been worshipping and functioning in certain ways and turning to the Word to seek Life.
Does that mean that all that is old is wrong?  ……….  No.
But if it upholds man's tradition, the way of the pharisees, rather than the Living breathing Word of God, there are going to be some very rusty trailers!
And now is not the time to be looking to preserve them.
This virus season has called a stop to tradition;
new ways of worshipping, praying and fellowshipping have had to be birthed, the trailers forcibly abandoned.
Everyone yearns to return to "how it used to be", whatever our expression of church.
But are we hearing the invitation to leave those rusting trailers behind?
To fast and pray and search the Scriptures for new vessels to carry in the grain?
I believe that many faithful hearts are doing just that,
but it takes courage to make a break with what has always been in order to usher in the Kingdom.
Not everyone is flexible, not everyone sees church as something more than a place of comfort,
but a powerhouse of praise and prayer.
It's not about age, it's about the heart.
Church is not about us, but God and He is ever doing a fresh thing.
So, are we willing to unhitch the trailers of the past (however recent) and reach out, in repentance and hope to grasp the new?
Come Almighty Father! Come Lord Jesus! Come Holy Spirit!
Lead us forward into new fields as whole, holy vessels of Grace.
Your Kingdom Come!

No going back…..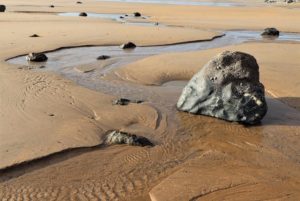 I woke this morning with memories of the beautiful sand patterns on this beach and the Lord saying to me,
"Look, I am drawing a line in the sand!"
But it wasn't the sort of line that we draw with a stick, that roughs up the surface
and creates the line or words or picture that we want to see.
No. This was a line drawn by the Hand of God;
a Living line that actively erodes the sand of our lives with the flow of the Holy Spirit.
A sharply focused line created by the action of Water.
Not a straight line.
Not a one-and-only line (there will be more to come)
Not a boundary but an invitation; an invitation to move on.
In these extraordinary times, we have had to let go of many things that we considered essential,
or at least normal.
They slipped through our fingers like sand and we've got accustomed to new ways.
We can't say when "normal" as we knew it in the natural will return to our lives.
But "normal" in spiritual terms is a dangerous place, for what feels normal is only one step away
from being set in stone. Fossilised.
However free our churches are, we still have our patterns; some may be quite fluid, even exquisite,
others, under the surface are grids that blinker possibility.
And then this season comes along and all is swept away.
We have all had to look outside our comfort zones and reconsider what "church" really means
and to examine our personal walk, also. Yet, are we still looking back?
Hankering after the familiar, the comfortable?
There is a growing realisation that we are not going to be allowed by God to turn back;
that the line in the sand has shifted something vital which cannot be ignored.
We are called to repent of the habitual.
We are called to seek the Lord for each new step as the sands shift around us.
We are called to trust in the Rock that diverts the flow.
We are called to give ourselves wholeheartedly.
We are called to LET GO.
"My Thoughts are not your thoughts, neither are My Ways are not your ways," said the Lord, thousands of years ago.
And He hasn't changed.
He is calling us to wake up to the reality of HIM.
Are we willing to lay down our "ideas" of Him and seek Him in the raw?
Are we willing to wave good bye to our memories for the greater Glory of God's plan?
There is no going back.
What there is, is the Glorious Call into the Purposes of God for these times:
Like the sand patterns, they are ever shifting but ever beautiful.
Time …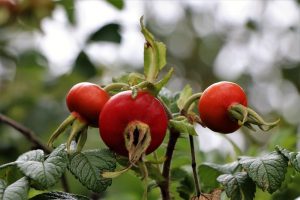 The seasons move quietly on,
regardless of all that is going on in the world
On my walk this week I found blackberries, wild plums and these beautiful rose hips.
The season of fruitfulness is upon us;
the fields are ripening,
the leaves on the trees are drab and tired, the flowers in our gardens are moving on from the roses of high summer to the last-burst varieties that take us into autumn.
Time is moving on……..Surprisingly quickly.
Lockdown, whilst it slowed the frantic activity of man, has not changed the rhythm of creation, nor has it held back the calendar.
Our diaries may have been empty,
but "seed time and harvest,
cold and heat, summer and winter,
day and night will never cease," just as God promised after the Flood.
They walk on, in faithful obedience to the ordinance of God their Creator.
Time, for them is a settled thing.For us, although it rules us, time is a matter of perception; we either have too much or too little, we are either early or late, we are either bored or frazzled,
we are held by a routine or flounder in freedom, we either work with time…..or against it.
But, we can't change it or stop it;
its rhythm is bound into the universe, measured by the sun and tamed for us by the clock.
The days and years roll on;
circumstances change, we get older, families come and go, we go through triumphs and failures,
sickness and health, we learn and forget……. and we walk with our God.
Our God Who is beyond time,
Who just IS……from eternity to eternity.
He needs no clock, for He never sleeps. He calls forth that which is yet unseen
and yet remembers the day of Creation as if yesterday.
He eagerly awaits the Day when His Kingdom is revealed, yet He is present with every one of His People every single second…..Now!
Our God; Creator of time's rhythms, yet timeless.
Oh, that we could be brave enough to take more time to enter into His Time!
That we could give ourselves to the miraculous elasticity of time spent, spirit to Spirit; where a few seconds can wash our souls, where a few minutes can change a life, where a day given, can shift stuff within and without, where a lifetime is revealed as but a blink of an eye, and just one second can open our eyes to Truth.
But we feel secure with our clocks and our quiet times, our routines and our expectations, and we can so easily put God into a slot……. and then feel peeved that He didn't turn up!
Let us allow ourselves to be pulled back into His Time;
His intimate infilling of the sequential "nows" that fill our existence,
His relational Purpose for our lives.
For THERE is the fruitfulness,
birthed by Father, Son and Spirit,
day and night, night and day, unto Eternity.
Making do…….
We were amused by these fence posts and their display of "bodgery"……
Why all this rope? Which post is holding up which?
Or is it more to do with making some sort of rope fence,
providing a rather flimsy boundary?
Whatever the plan, the result is a mess!
Good foundations and some proper wiring would have made a
better job, but the whole property, seemingly now abandoned,
spoke of meagre resources and lack of finesse.
Making do.
Something we can pride ourselves in doing, particularly if we are over a certain age!
Mend, not spend, it must have a few years in it yet,
a few nails here, some wire or some sticky tape, and it will do.
Or we may be the sort that throws stuff away without trying to mend it, desiring always the new, highly functional and glossy.
There should, probably, be a middle way!
But what does God do?
Does He look at our lives and think that they are not worthy of mending?
Does He ever throw anyone away, even up to the very last minute?
No! Our God is Faithful and Merciful beyond our comprehension, desiring that every soul should not just be mended, but made NEW.
We can't do that in the natural; if something is old, it is old, we can replace it, restore it, make it as good as new, but we cannot make it NEW again.
God Delights in it.
He takes the bodgery of our lives, dismantles the knots, tenderly unravels the rope that clings or binds us to things or people, and makes us straight, sturdy and new.
He sorts out our foundations and stabilises our rockiness.
He pulls out the nails that have wounded and even renews our fibres, giving our dead stumps roots again so that we now live.
What a God….no making do, just making New!
We marvel at the Love that bore the Cross and the nails and the whipping rope, that birthed for us freshness and freedom.
We rejoice in the tingling of New Life within us.
We humbly accept the Gift of Grace, that works in us what we could never do for ourselves and we are full of thankfulness.
And we know that each new knot we get ourselves into will also be gently undone,
for His Mercies are NEW every morning, every minute, even.
We only have to turn to Him and ask, and He is there.
Lord, You are so GOOOOOOD!
We give You praise with thankful hearts, for Your Love endures for ever……….
In your dreams…….?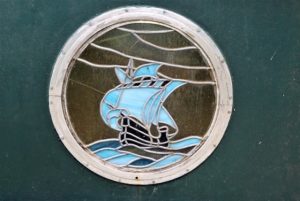 A canal boat that I passed had this window, which amused me greatly;
Does someone daydream of sailing the high seas in a galleon with billowing sails
but have to make do with a barge on a calm canal?
Or did the boat builder have a sense of humour?
Or is it supposed to speak of the intrepid nature of the boat's heart?
Which all got me musing about what sort of boat we are:
What is God's design for us? What sort of power propels us?
What kind of water are we created for?
Are we genuine, full of integrity, through and through?
I'm pretty sure that if we consider for a moment, we can identify with some kind of boat;
a simple rowing boat, a power boat, a ferry, a houseboat, a sailing dinghy, a fishing boat, a barge,
a liner, a fancy yacht, a warship or even a galleon.
Plenty of choice….and none of them is wrong!
For, like the boats, we are all made differently,
but we are all meant to be buoyant and to move on water.
Problems only come when we spring a leak or lose our source of power……
or maybe set out in the wrong kind of water for our design.
Or maybe we have got trapped as one kind of boat, when our Heavenly Boat builder wants to remake us!
We become accustomed to who we think we are
and it is really good to be happy in our skins, through and through;
to know that we are sailing the waters God made us for, shaped and gifted for the setting we're in.
But does that mean we're the same for life?
Do we refuse to set sail for His Wind when we are used to rowing in our own strength?
Are we scared to use the throttle of Power that is not our own?
Do we grumble if we are refitted to take passengers, or even stinky fish???
Are we unwilling to be stripped of our luxury fittings in order to be sent to war?
How will we know He is moving us on?
Well, if we are daydreaming of good holy functions beyond our current experience,
it may just be the Lord leading us into the boatyard!
The process of remaking sounds painful, yet, if the Call is genuine, we will submit with joy;
we will suffer the ignominy of floundering for a while as we get used to new waters,
yet we will grow to fit into our new shape gracefully and become the vessel He intends.
And what if we have the body of a barge boat but the heart of a galleon?
No matter at all!
For the heart is where the Wind blows, where the Power throttle is fitted,
where the guns lie cradled, where there is always room for one more person.
The heart is where our transformation begins……
Who knows what waters await us?
God does!
And He won't let us sink because His Hand is on the tiller, taking us His Way……
Understanding…….
We were enjoying walking through a lovely wood;
the trees were sheltering us from the light rain overhead
and the welcome scent of dampness surrounded us.
Because it was raining our eyes were looking down,
rather than up into the wet,
and my eye was caught by these extraordinary patterns on a decaying log.
It was my husband who said, "It's like letters!"
And yes, before our eyes was the germ of a word,
incomprehensible, yet intriguing;
letters unrecognisable to us, yet we felt the pull to try to figure them out.
Of course, we couldn't, so we laughed and walked on.
Sometimes we just have to admit that we don't understand.
Our pride would like to think that we can work things out,
that we can chew away at the knotty issues of life until they reveal their meaning;
that we can, through sheer mental effort, tease out the meaning of that which is beyond us.
In Scripture there is much about understanding;
it is plain that we are not supposed to lean on our own sort!
Even the great King David could write,
"My heart is not proud, Lord, my eyes are not haughty;
I do not concern myself with great matters or things too wonderful for me.
But I have calmed and quietened myself…. like a weaned child."

Simplicity, trust, contentment. Beautiful attitudes in God's Sight.
But neither are we supposed to be ignorant.
Rather, we are called to be steeped in His Wisdom.
Does that come through mental gymnastics?
No. It comes through revelation.
Not just in the "light bulb moments" but the steady dawning that uncovers the gold.
A Truth that has always seemed a mystery to us
will reveal its treasures subliminally,
often because we have stopped wrestling with it.
We come to the point when we just "know".
The key to a problem may elude us for weeks, even years,
until the answer surfaces because we asked for revelation.
And that is our "key"…..  To ask.
To humble our minds, admit that we can't work it out
and ask, for ourselves and for others.
Paul, his own brilliant mind bypassed by revelation on the Damascus Road,
is ever ready to pray for his friends, asking God
"to fill them with the knowledge of His Will through all the Wisdom and Understanding
that the Spirit gives."

We are not left to work things out for ourselves.
Neither do we need to fill our minds with worldly junk, but rather, we are to open them up to Truth;
Truth that will be distilled to us, in the right quantities, at the right time.
We are not to fret.
Gradually the distorted letters will become clear and the Word will emerge,
and we will rejoice in fresh understanding that only the Spirit can give.
Aren't we blessed!
We only have to trust.
Ordinary……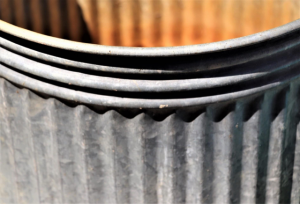 In my friend's garden, full of beautiful flowers,
my eye was suddenly caught by this old galvanised dustbin standing against the house.
Its stark simplicity, its texture, shapes and lines were all very satisfying,
and the rich orange colour within, a delightful surprise.
Then, I saw that it was being used as a water butt;
a down pipe from the gutter above resting on its rim and water  held in the bottom.
Hence, of course, the wonderful orange;
years of holding water had changed the galvanised surface and transformed it.
It is essentially still as it was made,
yet its change of use has transformed it from the ordinary to something more;
it has stopped holding rubbish and now holds water.
It is no longer treated roughly as something lowly,
something, although beautifully made, taken for granted….
Now it is valued because it holds water that gives life to the plants in the garden.
It doesn't go anywhere, it just waits for the rain and receives it.
Simple service that has rendered it special.
An encouragement for those of us that might consider ourselves ordinary, t
aken for granted, sturdy but plain, not of obvious beauty.
What does that matter, if we are holding treasure within?
So long as we have chucked out the rubbish and are receiving and holding the Water of Life,
we are so much more than ordinary!
We might not actually get to see the new colours within,
but our Heavenly Father does, and it thrills His Heart.
There's nothing He likes more than transforming people
into His Likeness, filling us with His Water,
and watching as that Water, just by residing there, irrevocably changes our chemistry.
We cannot fill ourselves, but we can make sure that we are ever-open to His Filling.
We cannot change ourselves, but we must be willing for the Water to act secretly upon our insides.
We cannot determine how high our Water level is, for that is a secret too,
known only to the One Who Sees.
What we do know is that we have to be willing to be filled, and to be used;
to allow the Hand of the Gardener to reach in with His scoop and draw from His Water to bring Life to those around.
Whether that takes us into "doings" or "beings" is up to Him, and His Purposes often surprise us.
But one thing is for sure; once we hold the Water of Life,  we are never "ordinary" again.
we are transformed into precious vessels, each unique, each glowing on the inside.
What Love! What Grace!
Alleluia!
Which sort…….?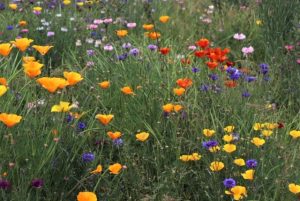 I've gone back to my poppy field again, and I'm fascinated, once more, by the juxtaposition of the two main types of flower growing there;
poppies and cornflowers. They couldn't be more different:
Poppies, simple open structures, big petals, faces looking upward, their colours ranging from cream to deep orange.
Cornflowers, complicated, busy structures, pointy and fluffy all at once, looking outwards and upwards, all at once, their colours ranging from white to deep purple.
What a contrast!
And the story of Mary and Martha came to mind;
Mary, the upward gazing one, with simple adoration,
Martha, the busy outward looking one, serving many, including her Lord.
When she gets flustered and annoyed by her sister just not helping…..at all…
Jesus teases her with a Loving rebuke,
"Calm down, dear woman!  Yes, there are preparations to be made, things to do, but I am not in a hurry for food and drink. Take time here with Me rather than scolding your sister."
We don't get to hear how Martha, her head in the kitchen, responded to His Words.
We do know, from later stories, that Jesus loved them both, that they both loved Him and they both had faith, and that their home was a place of rest for the Lord.
But Jesus was challenging Martha's primary gaze. In this field, it's the poppies that grab the attention; that steady, bright, upward simplicity,
engaging with the sunshine in a very direct way, is a beautiful picture of the contemplative heart.
The heart that looks with intensity and is reluctant to leave. The heart that ravishes the Heart of God.
Yet, Jesus came to us demonstrating the Servant.
He is not challenging Martha's heart to serve, but her attitude, her sense of unfairness, her stress.
These things are blocking her gaze; she cannot see Jesus clearly. In this field, the cornflowers offer a different texture,
a quieter subservient hue.
Yet, look closely at them and it is obvious that their hearts, the place of nectar and feeding, are turned upwards too.
The centre of each flower is a deeper shade, drawing the insects to the part that matters, to feed.
It is easy to judge both Martha and the cornflowers as being inferior, but the truth lies within the gaze of the heart.
Which one are we?
The world is full of Marys and Marthas, working out God's Call on their lives.
Most of us are a mixture, although we will lean one way or the other, by temperament.
Most of us wish we were more like Mary, whilst we, like Martha, wash the pots of daily life.
Most of us are challenged by our attitudes.
Most of us wish that we could get our gaze steady.
Yet, this field shows us the beautiful need for the combination……how one offsets the other
and how being truly oneself in God is a beautiful thing, so long as our centre is looking up,
meeting the Gaze of the One Who Loves us.  
Which way……?
The Word of the Lord came to Jeremiah,
"You will seek Me and find Me
when you seek me with all your heart….."
And off we go;
searching the Scriptures,
reading teachings old and new,
seeking wise counsel,
attending meetings and conferences,
hearing sermons, going on retreats………
We do it all;  seeking, seeking, seeking
the One Whom our heart knows it loves,
filling our understanding as much as we can,
gathering treasures of wisdom, yearning always for more, more, more.
Which way is the best? Am I on the right path?
Do I need to explore this way?
Is this really a path? Where's the map?
Where are You taking me?
In fact, where are You, God?
And God says, "STOP!!!!!!"
"Be still and know. Be still and find Me, right there within you. NOW.
I AM……… there.
I freely gave you My Holy Spirit
to dwell in the temple of your heart;
do you so readily forget?
Will you just rest awhile with Me?
There you will find all that your heart yearns for,
if only you would stop and agree, in faith,
that you don't need the frantic search.
I have done it:
Paid the Price, Given the Gift,
Called you to Myself through Jesus,
Made My Home in you, just as My Son Promised.
Rejoice and be glad, for I couldn't be closer!
Give yourself to My Presence
and then TOGETHER we will open up My Word, and explore the Paths I have for you.
I am not at the end of the path,
I AM here with you as you go along.
Walk the walk of Life that I have prepared for you,
just for you, no other, with acceptance and joy;
no regrets, no comparing, no vain ambitions,
just Me in you and you in Me. Together.
Remember, I desire to be found, in fact, I never leave you.
Lay down your strivings and REST. It's so simple. You are Mine."
Amen Lord, I hear You, and agree.
Your Grace is beyond all words……….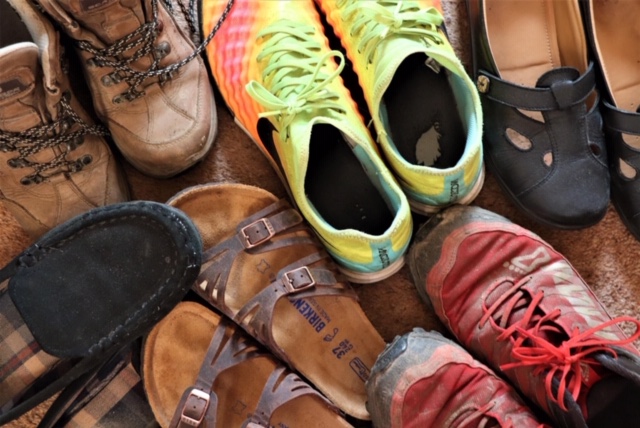 Shoes………
These are just a few of the pairs of shoes in our hall:
and are suitable for many occasions,
but they all serve the same purpose;
to clothe our feet, to keep them warm,
to protect them from harm, whatever we ask of them.
Sometimes they are purely functional,
sometimes they are more for show,
a thing of vanity or pride,
and, sometimes, in summer, we do without them at all;
but we all have them, probably a few too many!
Paul speaks about being fitted with the shoes of readiness
that come with knowing the Gospel of Peace.
Shoes that can take us to any and every occasion
where the Word can be spoken
where the Love can be demonstrated.
Shoes of the Gospel of Peace…..
Peace and shoes does seem a curious juxtaposition,
for most of our shoes get a hammering,
however pristine they are when they come out of the box!
But a comfortable shoe is a well-worn familiar shoe,
ready to be worn without distraction.
Are our feet at peace?
I believe it goes deeper than the shoes:
Today, we remember when Jesus startled His Disciples
by washing their feet.
Just imagine, for a moment,
the extraordinary privilege of having one's feet washed,
cleansed, dried and Loved by the King of kings.
A humble, intimate cleansing that takes humility to receive.
The Disciples struggled to understand at the time,
but later they must have cherished that memory;
such an upside-down gesture,
a simple servant act that fitted them to serve the world,
the touch of Love that brought them Peace.
Peace that they would need when the church was born
and their sandals carried them far and wide, into the world.
And, in these days, when we are pretty much
only leaving the house on foot, we have much in common!
We may be able to have a "distanced" chat
with a neighbour we hardly ever see,
we may be prayer walking our streets, as we "exercise",
we may be delivering supplies or encouragement,
we may be walking alone with the Lord,
snatching time away from the house that is suddenly full.
Even in our restrictions,
our feet are taking us places with Him.
The shoes provide the readiness,
the Peace resides inside;
let's take it places!
Contact
Contact the Parish
Administrator,
Janice Charlton
on 0191 236 7962
or email
infostaidans@gmail.com
Facebook
Instagram